Sumitomo Electric's Vision for 2030 Mobility
Features of business of in the field of mobility
●We boast one of the world's largest shares of wiring harnesses, which have been likened to be" similar to nerves and blood vessels of automobiles."

●Today, we have 230,000 employees in 31 countries engaged in wiring harness manufacturing. We have established a global production system that is capable of delivering" identical and the highest quality product" throughout the world through our" onsite capabilities" to develop and execute what is decided in an honest and thorough manner.

●We have a track record of delivering and developing products that contribute to "environmental and social issues," such as aluminum wiring harnesses.

●Through the provision of traffic control systems, we are contributing to the betterment of the road traffic environment by reducing traffic accidents and traffic congestion.
Responding to changes in the field of mobility
●The CAS-EV*1 Development Promotion Division was established with the objective of enhancing the marketing process from the creation of needs to the examination of commercialization in a comprehensive manner.
Establishing a company-wide cross-sectional system where business units, research, planning, and sales are better integrated.

●The number of engineers engaged in the relevant work is increasing. By expanding the perspective from the conventional "parts perspective" to the" vehicle perspective," we are striving to create proposal-oriented businesses that take into account the upstream processes that customers used to go through, such as system/ module design, function definition, and vehicle planning that are compatible with CASE*2.
*1 CAS-EV: A term for electric vehicles that correspond to the "CAS" of CASE (*2), which has recently been described as a "once-in-a-century revolution" in the automotive industry.
*2 CASE: A term for the trends in the automotive industry; an acronym for Connected, Autonomous, Shared and Electric.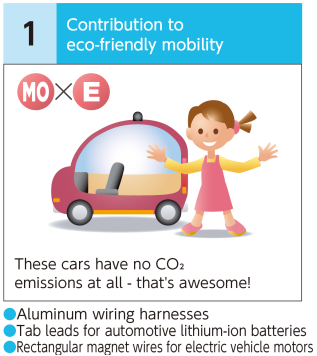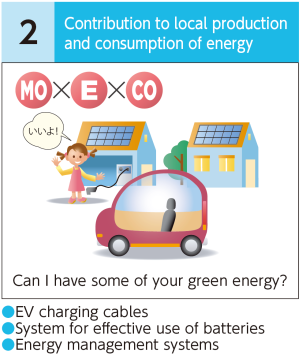 Initiatives linked to combating global warming and bolstering resilience
In recent years, movements toward the realization of carbon neutrality have been accelerating worldwide. For many years, the Company has been producing aluminum wiring harnesses and many other products that contribute to improved fuel efficiency and reduced CO₂ emissions by reducing the weight of automobiles. The number of gasoline-powered cars will continue to decrease while the number of electric vehicles of various types will increase. The Sumitomo Electric Group will continue to develop and provide new eco-friendly products that contribute to the realization of carbon neutrality, including rectangular magnet wires for electric vehicle motors and tab leads used in automotive lithium-ion batteries.
Also, as electric vehicles become more popular in the future, Mobility will have a lower barrier to the energy field. As development of IoT and block chain technology leads to more active individual transactions of energy via the cloud, it will not be uncommon to see scenes where EVs are powered solely by local renewable energy. In times of disaster, PHVs will become "running storage batteries," and through IoT-based energy management technology, many PHVs can be remotely controlled to supply electricity to places where it is needed. To respond to this future vision, the Sumitomo Electric Group is developing and proposing charging systems, systems for effective use of batteries and energy management systems that link vehicles and energy infrastructure. These initiatives are not only countermeasures against global warming, but are also linked to strengthening our resilience.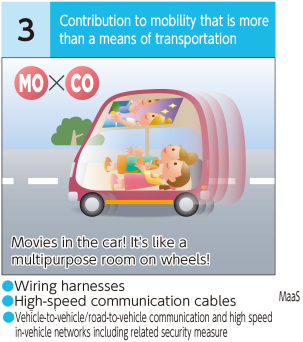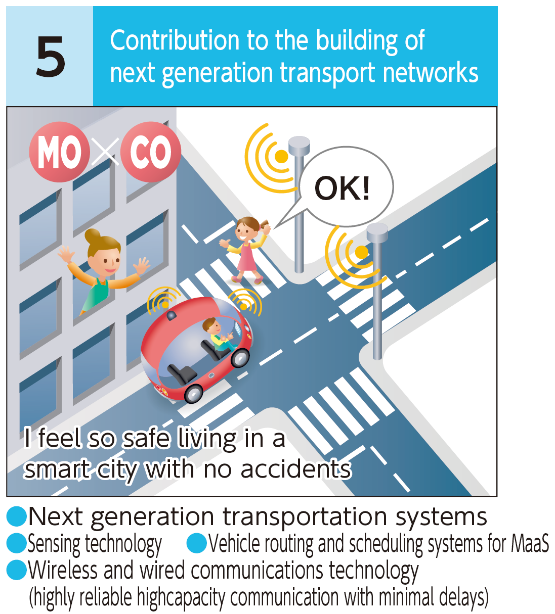 Initiatives to realize safe, secure, and comfortable mobility and transportation
In the future, as automated driving becomes a reality, we will be able to make better use of our travel time.Mobility that offers new experiences is also emerging. This will make it easier and more comfortable than ever for people who are not comfortable driving, people with physical disabilities, and the elderly to get around. Autonomous driving is expected to reduce traffic accidents and congestion, but safety must also be realized at the same time. The Sumitomo Electric Group recognizes these changes and will continue to conceptualize new products that will realize safe, secure, and comfortable mobility and transportation without accidents or traffic jams. The Sumitomo Electric Group' s strength lies in its ability to apply the knowledge it has cultivated in the field of communications towards the field of mobility. Currently, we are tackling the development of next-generation traffic systems and vehicle routing and scheduling systems for Mobility as a Service (MaaS). We are also working on the development of vehicle-to-vehicle and road-to-vehicle communications, including security, for autonomous driving, the development of high-speed communication networks in vehicles, and are engaged in the R&D of parts and materials for higher frequency wireless communications. Social infrastructure such as roads and bridges on which cars travel is also important. In addition to extending the lifespan of social infrastructures, we are also working to promote the use of optical fiber-embedded prestressing steel for monitoring the soundness of infrastructures against disasters such as earthquakes, heavy rains, and flooding.
Challenge to create social value in the field of mobility
While automobiles as objects have been used to transport people and goods to their destinations, in the future the role of mobility will be to provide society and people with optimal services and a high quality of life. Moreover, mobility will become an integral part of the social infrastructure and become an asset for cities. While we envision these changes progressing step by step, the Sumitomo Electric Group, which began with electric wires and has since diversified, will continue to contribute to the realization of a future society. We possess a wealth of products, technologies, and knowledge. While sharing our vision with customers in a wide range of fields beyond the automotive industry, we will continue to create social value and contribute to the realization of a greater quality of life for people by providing products and services that are needed by society.