Sumitomo Electric's Vision for 2030 Energy
Examples of unique products and services
●DC ultrahigh-voltage cables with high insulation performance

●We are able to offer total solutions, including not only wires and cables, but also a wide range of products such as storage batteries and systems, as well as our comprehensive capabilities to handle the construction of power facilities.
- Contributing to the development of energy infrastructure in Japan and overseas -
●1908 Started production of power cables

●1911 Installed the first Japanese-made high-voltage underground electric cables (Fushimi to Kyoto City).

●2015 Installed one of the world's largest storage batteries (at the time), redox flow batteries (Hokkaido)

●2019 Completed construction of 400kV HVDC submarine cable system (UK to Belgium)

●2020 Completed construction of "Wind Farm Tsugaru," the largest wind power plant in Japan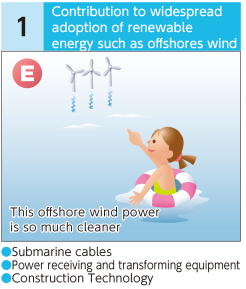 Contributed to the popularization of renewable energy and the development of energy infrastructure
In recent years, in the energy sector, governments have been moving toward carbon neutrality. Domestic investment in renewable energies, such as wind power generation, is expanding and accelerating due to the rapid shift to carbon neutrality, and demand for the Group's submarine cables, underground cables, and power receiving and transforming equipment is also increasing. In addition, the existing power infrastructure is experiencing transmission capacity constraints, and following the example of Europe, plans for a long-distance direct current submarine power grid have been incorporated into the interim grid master plan of the Organization for Cross-Regional Coordination of Transmission Operators in order to deliver renewable energy to demand areas. We will also maximize the group synergy with Nissin Electric and Sumitomo Densetsu and contribute to carbon neutrality.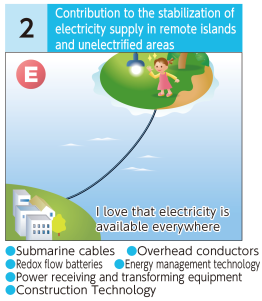 Overseas, as many European countries are shifting to renewable energy sources, demand for high-voltage cables to integrate electricity among the countries is on the rise. There are various demands for Overhead conductors in countries and regions where electric power infrastructure is in the early stages of development, and submarine cables connecting islands in ASEAN countries. With the Company's sincere and honest response to anticipate needs and develop products that suit our customers, and with our world-class technological capabilities, we will contribute to the development of social infrastructure through the spread of renewable energy and the construction of local infrastructure.
On the other hand, in order to further promote the utilization of renewable energy, we must use large-scale storage batteries to mitigate the consequences caused by fluctuations in the output of power generation. We have high expectations for the use of our redox flow batteries, which are characterized by their fire safety, long life and high capacity. It is also important to maintain and manage the power transmission and distribution network while securing the stability of the power system. The Group is also pursuing initiatives to increase the allowable current of existing power lines by constructing sensor networks on existing power lines, thereby allowing more renewable energy to flow through them. We hope to increase the number of situations in which we can make use of the strengths of the Sumitomo Electric Group, which is able to propose total solutions, such as the wide range of products we can offer, including not only wires and cables but also storage batteries and systems, and our comprehensive ability to handle construction work for power facilities.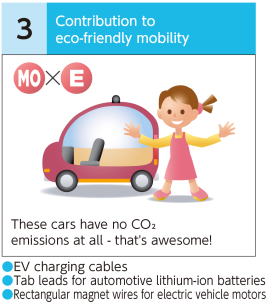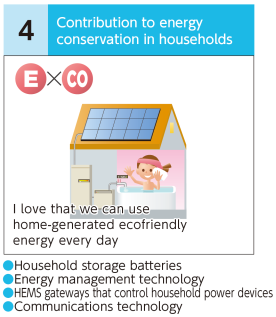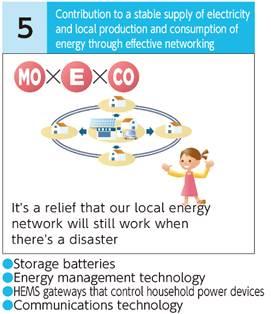 By broadening our perspective from the field of energy, the barriers between mobility and communications will become lower in the future. For example, as "green electricity," which is made from 100% renewable energy sources, becomes more prevalent, systems that allow people and companies that use electric vehicles with low CO₂ emissions to receive benefits will also become more popular, and the number of electric vehicles with "zero CO₂ emissions" will increase. Then, as the number of storage batteries installed in electric vehicles increases, the infrastructure needed to recharge them will also become necessary, and a framework will be created to adjust to changes in the balance of electricity supply and demand. Also, self-consumption using a combination of solar power and storage batteries will also become common in factories and homes. If energy resources such as the storage batteries installed in electric vehicles and the solar power generation and storage batteries distributed throughout cities can be connected through IoT and community energy management systems, it will be possible to share energy resources within the community with the city even if the energy supply network is disrupted by a natural disaster, thereby increasing resilience against disasters.
The Group will continue to propose solutions that integrate a comprehensive range of technologies and products in order to provide society with value in terms of consideration for the global environment, enhanced disaster countermeasures, and greater comfort for energy users. Taking a long-term perspective, hydrogen is also anticipated to be used as an energy source for carbon-free, and the Group is actively pursuing R&D for practical use in this field through open innovation. We are committed to supporting society through the construction of energy infrastructure and will continue to contribute to the realization of a better life for people.