Sumitomo Electric's Vision for 2030 Communications
- Starting with the popularization of the telephone and contributing to the development of the information society -
●1911 Established Sumitomo Electric Wire and Cable Works (now Sumitomo Electric Industries, Ltd.) and supplied communication cables

●1964 Pioneered new research fields in preparation for the coming information society (later budding new businesses such as traffic control systems business, semiconductors business and flexible printed circuits business)

●1970- Promoted R&D of optical fiber and established production technology that would later become Japan's representative manufacturing method

●1980s: Focused on" Optopia," the ideal of a prosperous society running on optical communication technology

●With an eye on the social issues that lie ahead of our customers, we have become a company that supports the success and achievement of our customers' objectives, acting as what is known as an" enabler company "to support the telecommunications revolution.


Now

●We support the digitization of society and the economy through the realization of high-capacity, high-speed telecommunications with our optical fiber manufacturing technology, ultrahigh-fiber-count optical cable production technology, transmission devices, compound semiconductors for optical and wireless applications, and visual- and optical-access equipment technology.

●Many mobile terminals and displays are also equipped with our high-performance wiring, such as flexible printed circuits and electric wire products.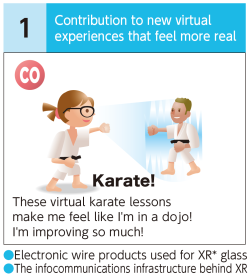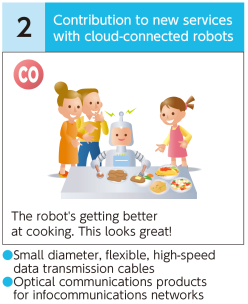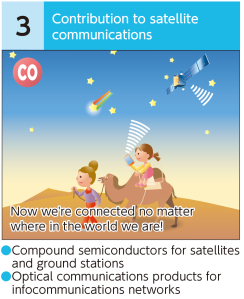 A more convenient and comfortable life for people supported by the development of infocommunications technologies
Social changes that have taken place in recent years include the popularization of IoT, streaming of videos and an increase in cloud services. This has seen online data traffic increase by more than 20%, an enormous leap that has only been amplified by COVID-19 restrictions. In addition, the new XR technology*, a new video service that achieves much greater realism, is being adopted with the arrival of 5G wireless communication, which enables high-speed, high-capacity data transmission with low latency. We can expect to see further popularization of support robots and advances in satellite and wireless communication technology to connect areas that do not currently have an internet network. As cities become smarter, data will be used to radically improve energy efficiency. Information technology in the field of mobility, such as connected cars, is also evolving, and the volume of in-car communication will increase. With the emergence of these various new services, data traffic will increase in speed and the technology for processing that data will also develop.
The key infrastructures that support these are communication networks and data centers. Data traffic will increase in speed and volume in communications networks, and software will be adopted to enable flexible control of data traffic. An increasing number of hyper scale data centers will be built to collect and store large volume of information and process it efficiently. And edge computing will be used to enable low latency in communication services, decentralization of data centers and processing of data at a closer proximity to the user. Actually, the demand for hyper scale data centers, edge data centers, optical submarine cable systems, and 5G mobile is increasing. The emergence of new services and advances in infocommunications technologies will lead to a future society where people's lives will become more convenient and comfortable, and potential for growth.
*XR (XR or Cross Reality) technology is a generic term for various image processing technologies that integrate the real and virtual worlds, such as VR (Virtual Reality), AR (Augmented Reality), MR (Mixed Reality), and SR (Substitutional Reality).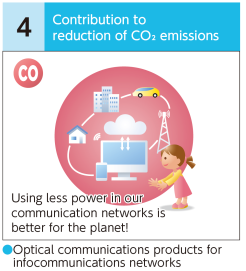 Controlling power consumption associated with increased data volume to reduce CO₂ emissions
On the other hand, movements toward carbon neutrality in various countries are on the rise. In the field of communications, too, we must not merely build facilities in proportion to the increase in data volume, but also work to optimize energy consumption through the adoption of new device technologies that are economical and consume less power, and through more efficient system operations. We must also promote the use of renewable energy for the increasing number of edge data centers in urban areas.
As a total package of diversified products in our possession, the Company will offer customers solutions that can reduce power consumption even in the era of highspeed, high-capacity communications and lead to reduced CO₂ emissions. In our R&D activities, we have been engaged in to date, we have been promoting not only higher speed and higher capacity, but also lower power consumption, and we are going to bring into full bloom our strengths in earth-friendly products such as next-generation optical fibers and their connection technologies, high-capacity interconnection technologies for data centers, and devices for optical communications.
A Future Better Life Supported by the Group
In the future, the desire to more accurately convey and share information, feelings, and emotions from person to person beyond the limitations of physical space is likely to grow stronger. We will also develop technologies to expand the activities of the people with disabilities and the elderly by enabling them to share a sense of presence even when they are physically apart. There will also be a demand for innovation in communications itself, so that we can convey the information we want to convey accurately and without any excess or deficiency. In response to these changes, the Company is expected to utilize its various technologies.
Pursuing and offering infrastructure products and devices demanded by society while cooperating with customers is one of our strengths, and it is an issue we will continue to address. As an "enabler company", the Group will continue to contribute to the realization of a better life for people.