Social Contribution Activities
Social contribution activities of the Sumitomo Electric Group
As part of the Group's social contribution, in addition to providing products, technologies, and services that are useful to society through our business, we have been engaged in a variety of activities, including CSR, as a member of society. In 2007, we established the "Sumitomo Electric Group Basic Policies on Social Contributions" and are continuously engaged in our own independent social contribution activities.
Today, the Group is engaged in a wide range of social contribution activities through donations to a wide variety of fields, including schools and education, culture and the arts, and industry and academic promotion, as well as community contribution activities at its global business bases and support for various sports activities.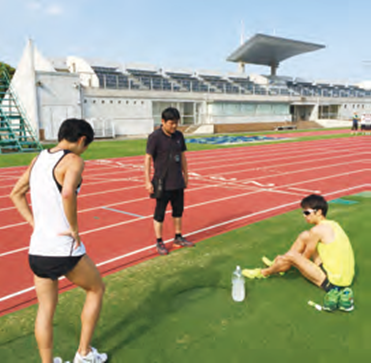 Social contribution through sports activities
Our Athletics Club strives to help the Sumitomo Electric Group a trusted and beloved presence in the community through athletics classes for local elementary and junior high school students and kindergarten children, and the "Sumitomo Electric Athletics Festa" event open to the community.
By "connecting" with people in the local community, we hope to deepen their understanding of our Group as a B2B business, and also contribute to raising awareness of CSR within the Company.
In addition, the role of manager is not only to provide guidance but also to manage the organization, which is similar to the management of a company. The Athletics Club currently has 25 members, and I am guiding each one of them, believing that it is important not only to contribute to society as a member of the club, but also to grow as a person based on the spirit of the Sumitomo Electric Group's Banji-nissei.
Sumitomo Electric will continue to take the initiative in organizing and participating in events such as athletics classes and do our best to build a win-win relationship between the local community, our company, and the Group's Athletics Club.
The SEI Group CSR Foundation, one of our donation recipients, is a public interest incorporated foundation with the purpose developing human resources and promoting academic activities. The foundation is engaged in activities to light up a corner of the world to create a better society and environment by donating to university courses, providing academic and research grants, and scholarships to university students regardless of nationality who are studying in Japan or abroad.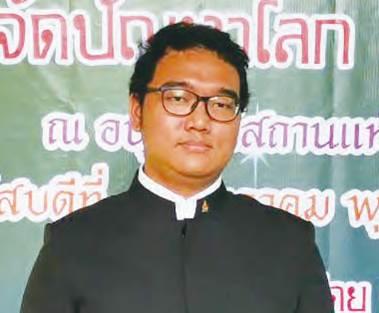 It is my dream to study in Japan.
I graduated from the Logistics and Supply Chain Management Course, Faculty of Business Administration, Thai-Nichi Institute of Technology in May 2021. I am currently employed in the Engineering Services Department, part of the IoT Systems Development team at Sumipol Corporation Limited.
I have a dream of studying in Japan in various technology-related fields. In order to further my education and career in the future, I want to study professional knowledge and learn Japanese as my third language of communication.
When I was a junior in college, my parents faced financial problems. So I saw a notice about a scholarship from the Support Services Organization and applied for it. And then, I was able to obtain a" S.E.I. Scholarship." This scholarship helps students who have outstanding learning abilities but are unable to receive financial support or who are experiencing problems. After that, I was able to experience so many things. When I was in my fourth year, I participated in the selection of student representatives for the Royal Awards and had the opportunity to represent Thai-Nichi Institute of Technology in a national stage contest. Additionally, I participated in a cooperative internship in the Engineering Services Department of Sumipol Corporation Limited, where I am currently employed. I researched IoT system design for walk-behind cylinder assembly line productivity and inventory control. The study was published in the TNI Academic Conference (TNIAC) 2021.
Based on my experiences thus far, I would like to express my gratitude to Thai-Nichi Institute of Technology, my teachers, friends, and all those who helped me and gave me opportunities. I would also like to thank Sumitomo Electric Industries, Ltd. and S.E.I. Thai Holding Co., Ltd. for providing support scholarships to me and other students. I hope to be able to pursue further studies in Japan someday.