Sumitomo Electric Group The Professionals ~Masaki Shirayama~
Sumitomo Electric Group The Professionals ~Masaki Shirayama~
Experience of a big project at a young age
In my university days, I spent much time travelling around Japan by motorbike and was not a very industrious student. But as a student specializing in economics, I developed a logical way of thinking. When searching for a job, I wanted to do something through which I could contribute to society in a tangible way, and thought that I could do so by working at a manufacturer. The main reason why I joined Sumitomo Electric was that while interacting with my university's alumni working at the company, I felt that my personality would make me suitable for working there and that I would be able to fully demonstrate my capabilities. In addition, I heard that the company had a corporate culture in which even young employees were entrusted with important responsibilities.

In fact, even when I was young, I was assigned a number of important Japanese power infrastructure projects. I was appointed as the first Sumitomo Electric staff in charge of a project for the divided and privatized Western Japan Railway Company (JR West). In addition, I was engaged in a project for the Honshu-Shikoku Bridge Authority, and also served as a sales representative of power cables for Kansai Electric Power Company (KEPCO). In particular, my experience as the person in charge of power transmission for the big KEPCO project of installing the Anan-Kihoku DC trunk power line laid the foundation for my subsequent career. In the project for installing the trunk line for power interconnection between Kansai and Shikoku, an approximately 50km-long submarine cable with the world's highest capacity of DC 500kV was adopted. The project involved a wide variety of the latest technologies available in those days, including highspeed installation and embedment equipment. Sumitomo Electric served as the coordinator of the joint project promoted by four electric wire and cable manufacturers. My role was to design the entire scheme and figure out how to realize it, though I was still in my 20s. Since I did not have sufficient experience or expertise back then, I emphasized dialogue. I expected that nothing would proceed if I tried to think by myself. Explore answers by engaging in in-depth dialogue with customers and in-house members, and find optimum solutions by forming ties between people – this approach later developed into my approach as a sales representative.
Overwhelming market share achieved through solid teamwork
In 2001, when J-Power Systems Corporation (JPS) was established as a joint venture of Sumitomo Electric and Hitachi Cable, Ltd. (presently Hitachi Metals, Ltd.), the power cable business of Sumitomo Electric was split up. This led to the removal of power cables from the list of the items that we handled at the Osaka Electric Power Companies Sales Division, with the number of staff members in the division reduced to five. As the manager of the division, I needed to consider how to overcome the situation that we had almost nothing to sell. In that environment, I paid attention to fiber-to-the-home (FTTH), which was beginning to spread. I considered the possibility of installing optical fiber and making the FTTH service available. In those days, the key players in the field were the telecommunication carriers, but power companies, namely our customers, were also keen to make inroads into the market. This meant that competition for obtaining service users had already been launched between telecommunications carriers and power companies. I set and shared targets with the members of my division, and engaged in enthusiastic efforts to present proposals to our customers to solve their problems regarding cost and time reduction for making the FTTH service available. As a result, we successfully obtained an outstanding top market share and established firm partnerships with our customers. This experience convinced me that even a small team could surely achieve a breakthrough if the team demonstrated solid teamwork and continued to push forward toward its target. We worked under the slogan "Passion (Make It through with Passion), Aggressive (Be Aggressive in Finding Solutions), Speed (Act at a Surprising Speed), and Specialty (Improve Yourself Every Day)." These words represent everything that all of us in the division valued in those days. In particular, we focused on "Speed," because speed itself is an excellent service and is the basis for earning trust from customers. For example, to address customers' needs by reducing the time for making the FTTH service available, we launched a design center, thereby developing and providing products quickly.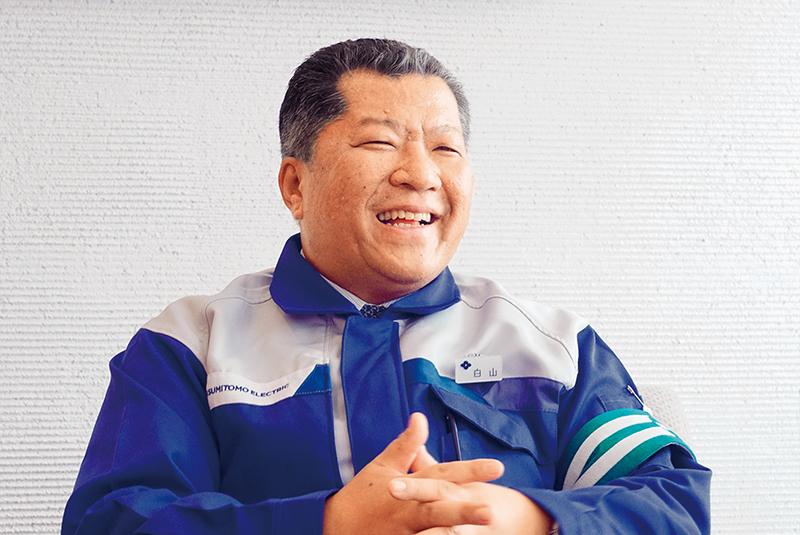 Untiring eff orts to establish ourselves in the global market
Afterwards, I was in charge of new business development and social infrastructure sales. For example, I was involved in the data center business, which made me once again confirm my working style. I ensured that various products and services were developed based on what were needed at data centers, meaning that we focused on appropriately identifying customers' problems and solving them with our technologies. With an increase in the amount of information to be handled, many optical fiber cables were needed at data centers, making our customers want to store such cables at high densities in their limited space. After identifying the problem, we soon developed new products, resulting in strong relationships with our customers.

Presently, I'm responsible for the power cable business. Our strong point lies in our capability to provide an all-in-one package of our longaccumulated, distinctive technologies, materials, equipment and systems. We will continue to make inroads into promising markets where we can demonstrate such strengths. Today, the number of large projects involving the installation of submarine cables for flexibly supplying and consuming power internationally is increasing. The main market is in Europe. Recently, we completed the U.K.-Belgium Interconnector Project,* using a DC cable with low transmission loss. Our insulation technology, which is the world's most advanced, was evaluated highly. We would like to continue to take on challenges without hesitation regarding projects for which our strengths could be utilized. In addition, we are also striving to go global in the volume zone market, or the land cable market. We plan to reinforce our manufacturing capability in terms of quality and cost and cultivate markets centered on India and Asia, which are showing remarkable economic growth.

In all of these efforts, our mission is to solve customers' problems with our technologies, thereby contributing to society. To fulfill this mission, we need to establish relationships of trust with our customers. This is true in all phases of a relationship between a company and a company, an organization and an organization, or a person and a person, and all such relationships are underpinned by dialogue. If you engage in in-depth dialogue with a customer, you will be able to identify the customer's problem and present a proposal for solving it. I believe that those with dialogue skills, communication ability and unwavering passion will play the main role in the future of Sumitomo Electric.
PROFILE
Masaki Shirayama

1985
Joined Sumitomo Electric

1986
Wire & Cable Operation Division

1987
Osaka Wire & Cable Sales Division

1996
Transferred to Sumiden Shoji Co., Ltd.

2001
Chief, Electric Power Companies Sales Group, Osaka Sales Department

2004
General Manager, Osaka Electric Power Companies Sales Division, Osaka Sales Department

2007
General Manager, Energy Transmission & Communication Systems Sales Department, Osaka Sales Department

2008
General Manager, Energy Transmission & Communication Systems Sales Department, Chubu District Office

2012
General Manager, New Business Development Division

2013
Executive Officer
Deputy General Manager, Network Products Sales & Marketing Unit General Manager, New Business Marketing and Promotion Division

2014
Managing Executive Officer, General Manager, Social Infrastructure Sales & Marketing Unit

2017
Managing Director, General Manager, Social Infrastructure Sales & Marketing Unit

2018
Current position
* For details, refer to the special feature of Vol.01 of id: "International Submarine Cable Project"
here