International Submarine Cable Project Installing the world's highest voltage DC XLPE insulated cable across the English Channel
International Submarine Cable Project Installing the world's highest voltage DC XLPE insulated cable across the English Channel

Interconnecting European Grids to Allow Sharing of Renewable Energy
UK-Belgium Interconnector Project
There is a growing global trend of shifting away from the use of fossil fuels. Specifically, in highly environmentally conscious Europe, each country is promoting the construction of renewable energy facilities, such as wind, hydropower, solar, and biomass power generation plants. However, renewable energy sources are subject to unstable power output. The concept of a super grid is to keep a balance between supply and demand of energy and to efficiently use renewable energy by flexibly supplying and consuming it within the region. Based on this concept, many international interconnectors have already come into operation in Europe.

The UK implemented electricity deregulation ahead of other countries in the world. For a large part of its energy sources, the country relied on domestic fossil fuels such as coal, oil, and natural gas. However, due to decreases in the output of these fossil fuels, the UK has become an importing country. Consequently, electric power rates increased in the country as a result of soaring fuel prices in the world. Moreover, the EU countries have targets to achieve by 2020 of:

●A 20% reduction in greenhouse gas emissions (based on 1990 levels)
●20% of EU energy supplied from renewables

The challenge, therefore, is to supply safe and secure electricity at low cost without relying on fossil fuels. Meanwhile, Belgium is greatly interested in exploring new markets for its renewable energy. The purpose of the international UK-Belgium interconnector project featured in this article is to help reduce carbon dioxide emissions by utilizing renewable energy generated in Belgium and to supply low cost and stable electricity to the UK.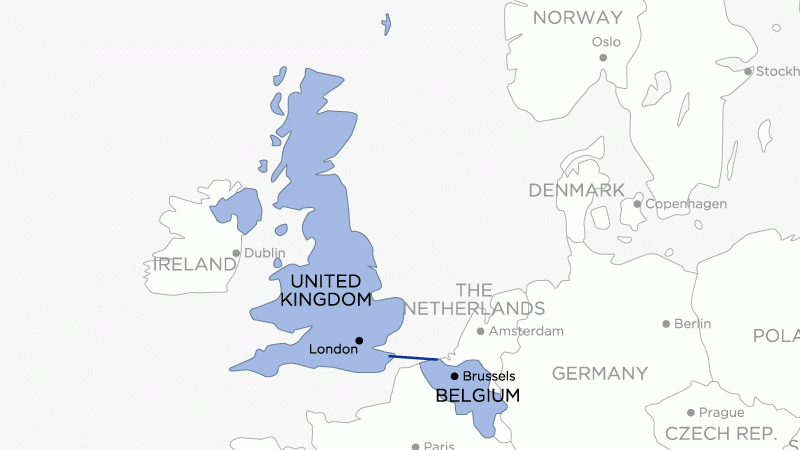 Sea to Land and Between Countries Throughout Europe
Mega project put into motion over a distance of 141.5 km
Ramsgate, Kent (a one-hour express train ride from London) is located in the south east of Great Britain; it is one of the closest points to continental Europe. To the east across the sea is Zeebrugge, a port town in Belgium. An interconnector cable system is currently being installed between the two towns.

The project is being implemented by Nemo Link Limited. The company is a joint venture between National Grid plc and Elia, power transmission companies and system operators in each country. Nemo Link was founded to construct the UK-Belgium interconnector to be completed in 2019 and operate for at least 25 years. The installed interconnector cable will be at the core of the company's business.

The overall length of the UK-Belgium interconnector is 141.5 km. The project is a large one, with its submarine section alone being 130 km long. Sumitomo Electric and J-Power Systems of the Sumitomo Electric Group were awarded a comprehensive contract for the design, manufacture, installation, and maintenance of the interconnector cable system. We are the first non-European companies to win a contract for an international interconnector in Europe.

The UK-Belgium interconnector project will have a substantial impact on future power flows in both countries. It is no exaggeration to say that power generated primarily from renewable energy sources is the first step to build a sustainable future.

The submarine cable installation will commence in August 2019 and is scheduled to be completed by the end of the year. This article describes the various challenges we needed to address during the process of winning the contract for the project and its significance.
Key companies working for UK-Belgium interconnector project and their roles
Nemo Link
A joint venture between British National Grid and Belgian Elia; the operator of the project
Sumitomo Electric/
J-Power Systems
With overall responsibility for the project, in charge of cable manufacturing, system design, and installation management. J-Power Systems developed the XLPE insulation material selected for the project. This material exhibits the world's highest performance and versatility.
Balfour Beatty
British construction company, in charge of installation on UK and Belgian on-land sites.
DeepOcean
Darlington-based offshore construction company, in charge of submarine cable laying.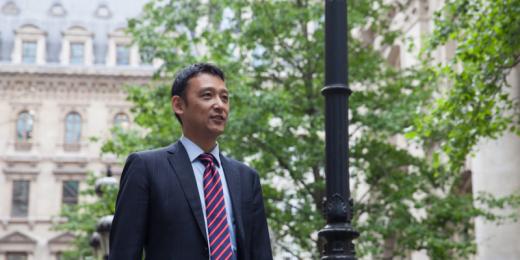 "What is going to happen if I continue failing to win contracts?" In London in 2011, Toshiyuki Furuhashi was fighting a series of hopeless battles. An increasing number of renewable energy facilities such as of offshore wind power generation plants were being constructed in Europe. In the region, there was growing demand for interconnector cables used to transmit electricity from sea to land and across national boundaries. The Sumitomo Electric Group was determined to gain entry to the European market. Furuhashi's mission was to explore the market.
However, the Sumitomo Electric Group had almost no brand name recognition or sales track record in the European power cable market. Furuhashi visited Europe a number of times a month with engineering and construction staff to approach transmission companies. Although it was not easy for him to meet the right people in these companies, he was sure that a market certainly existed in Europe. Additionally, the Sumitomo Electric Group possessed high-voltage DC (HVDC) interconnector cable system technology unavailable from any of its competitors. Furuhashi was supported by these two convictions. He says that he was sure to find a breakthrough, despite feeling frustrated from multiple failures to win contract.

At the end of 2011, Furuhashi came across tender information for the UK-Belgium interconnector project. The project description appeared favorable to demonstrate the potential of the Sumitomo Electric Group's DC cable technology. The team led by Furuhashi visited the prospective client frequently to provide them with general information about the Group, including the corporate philosophy, technical prowess, performance, and financial strength. However, the team received no invitation for the bidding. "We had no proven track record in the European market. To gain trust in us as a cable manufacturer, it was vital to invite them to Japan, introduce them to Japanese culture, show our manufacturing process on site, and help them to become familiar with Japan and Sumitomo Electric." With this notion in mind, he strived to arrange a tour of the cable factory. Consequently, in a company-wide effort involving the sales, engineering, and installation sections, he managed to gradually build the client's trust in Sumitomo Electric. These efforts finally led to a tender invitation. In 2012, Sumitomo Electric was prequalified and lined up at the same starting line with its competitors for the bidding.