Sumitomo Electric Group The Professionals ~Masato Morimoto~
Sumitomo Electric Group The Professionals ~Masato Morimoto~
Unexpected transfer to a sales company headquartered in Los Angeles
I was engaged in domestic sales in the field of infocommunications for approximately 30 years after joining the company. Shortly before reaching 54, however, I was assigned to work abroad for the first time in my career. Until then, I had served as the General Manager of the Global Business Department for about three years, which can be described as time to prepare for working abroad. Still, the assignment was somewhat unexpected.

I'm responsible for the Sumitomo Electric Group's operations in the info-communications field, whose main products are roughly divided into the three categories of optical fiber cables, optical-related equipment, and network systems. We have sales bases around the globe, such as in the U.S., Europe, China, and Southeast Asia. At the Global Business Department, I did business with customers from different countries. However, our global head office is located in Tokyo, and my base was in Japan.

With that background, I was unexpectedly transferred to the U.S. even though at the time I could barely communicate in English for business. I was not sure if I could make myself understood in English in other settings in my everyday life. Actually, I often sweated with nervousness when speaking with non-Japanese people. In addition, I'm scared of flying. With rising anxiety, I was transferred to L.A. to serve as President of Sumitomo Electric U.S.A., Inc. (SEUSA), which is responsible for sales and marketing of products of the Sumitomo Electric Group.
Six years of dynamic business experience
As expected, I had difficulty making myself understood in English at supermarkets and hospitals, etc., but I managed to overcome such problems. I had a lot of embarrassing moments, but such experiences made me stronger. Moreover, my transfer to the U.S., where the info-communications and electricity businesses are booming, served as an opportunity for me to experience global business while taking advantage of my sales marketing career in Japan. For example, I was involved in a large project delivering and installing submarine fibers to a submarine cable system provider in the U.S.

In particular, North American IT giants operating hyperscale data centers make large investments and are quick to make decisions, requiring us to move promptly and flexibly so as to keep up. Although I was not directly involved with such business, the speedy U.S. business style gave me a stimulus that I never had before. Furthermore, my years in the U.S. were invaluable for me as a leader charting a certain course while sharing the same direction with global staff with different backgrounds and establishing relationships of trust with them.

While living in a comfortable environment in L.A., where there are many Japan-affiliated companies and Japanese communities, I was thinking of fellow expats living in countries and regions other than the North American West Coast. I could not imagine how challenging their lives there must have been. My days in the U.S. also served as time to think deeply about matters that I would never have considered in Japan.
Top-class Japanese player with opportunities to work in the global arena
You can try new things and develop yourself regardless of your age. This is what I have felt through my six-year experience in the U.S. I'm deeply grateful to the Company, which provided me with the opportunity to try something new when I was in my mid-50s.

The Sumitomo Electric Group is the best company for those who would like to work in the global arena. Operating in five business fields in about 40 countries around the world, the Group is a top-class Japanese player with many opportunities to work abroad. Such opportunities are available not only to employees in sales and engineering, but also in HR and other corporate staff divisions. There are many opportunities for employees to fully demonstrate their abilities. I expect that many more talented individuals will make their presence felt in the global arena.

In the U.S., I strongly felt the importance of diversity. While working together with SEUSA staff, I experienced not only cultural and religious differences, but also diverse views and perspectives, and realized that they were truly beneficial for business operations.

This is not limited to business. As a sports enthusiast, I often went to watch MLB games. The premier North American professional baseball leagues are run on the diversity strategy of drawing talent from all over the world. I believe that both teams and companies can grow as an organization only when they have diverse talent and ensure that each person can demonstrate their own abilities. (Now I also support the Hanshin Tigers in Japan.)
Development of human resources who can present comprehensive proposals such as combination of DX and GX
At the Social Infrastructure Sales & Marketing Unit, to which I belong, we establish an overall sales strategy at the global head office in Tokyo and ensure that the strategy is adapted to local conditions for sales activities.

Market and customer needs vary depending on the country and region. While some customers place their first priority on price, others emphasize a product's additional value and quality. We place great importance on sales styles that take regional features into account in order to accommodate customer needs.

One of my priorities as the Deputy General Manager of the Unit is the development of human resources. The field of info-communications is booming, and one effect is that severe competition with our competitors is continuing. For the Sumitomo Electric Group to win in all the operating regions throughout the world, we definitely need a global sales force.

When there is a call for striking the best balance between digital transformation (DX) and green transformation (GX), we can present flexible solutions to satisfy customer requests. As an organization rich in diversity, we strive to foster human resources who can present comprehensive proposals.
Take a natural attitude and make truly sincere efforts
Having been in the sales field for nearly 40 years, I always try to take a natural attitude and see things as they are. I have always tried to start new things by being aware of the need to respond flexibly depending on the situation, without obtaining unnecessary information or having an excessively firm determination.

Stay calm whether you are in good times or bad times. Especially when you are in good times, you must not be conceited, and you need to regard yourself with humility. Even when I was young, I was not that lean and mean at work. Still, I feel that age has softened my edges. As well as those in my generation, I might have learned to loosen up in a positive sense.

I like the opening part of The Tale of the Heike. The maxim reminds me of the impermanence of all things, as described in the phrase "the proud do not endure," and the importance of once-in-a-lifetime occasions. I'd like to make truly sincere efforts, of course, for customers, and also on behalf of everyone involved.

We often receive high praise from customers, who say that the Sumitomo Electric Group's technology is one step ahead of its competitors'. Nothing else can make a manufacturer's salesforce feel fulfilled than such a comment. The evaluation is totally thanks to our corporate culture of continuing to take on the challenge of technological innovation, as well as our coworkers, who always keep an eye on our competitors' moves and develop new technology and products. Together with such colleagues and young, talented individuals, we will continue to present value that will please customers.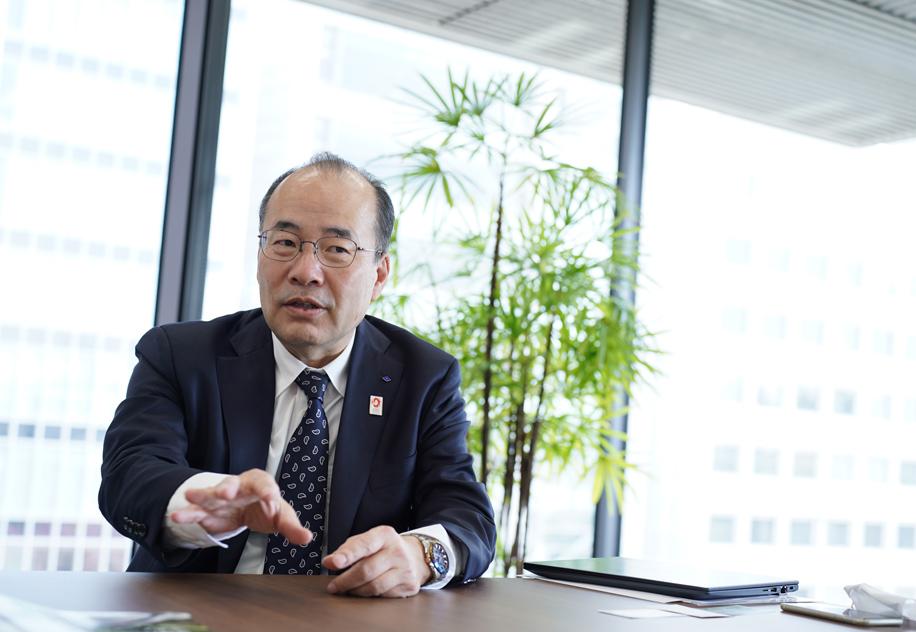 PROFILE
Masato Morimoto

1984
Joined Sumitomo Electric Industries, Ltd.
Electric Wire Sales and Marketing Division

2005
General Manager of Device Sales Department

2011
Manager, Global Business Department

2014
General Manager, Social Infrastructure Sales & Marketing Unit

2015
President, Sumitomo Electric U.S.A., Inc.

2021
Executive Officer
Deputy General Manager, Social Infrastructure Sales & Marketing Unit