Electrical and Computer Engineering
Internship at Advanced Automotive Systems R&D Center
Why did you want to intern for Sumitomo Electric?
I wanted to do internship here as the project conducted in Advanced Automotive R&D Center was related to autonomous cars, which has always been my field of interest. Sumitomo Electric is a global company known for innovative R&D activities. So, I wanted to be a part of it. Also, this was a great opportunity for me to gain knowledge, experience the work culture plus explore a part of Japan.
What did you do in the internship?
The main objective of my project was constructing a traffic simulation environment for junction models in order to avoid collision of vehicles when they change lanes or meet at a junction, where two different roads meet.

Autonomous driven vehicles are expected to become popular due to the rapid progress of self-driving technology in recent years. Currently there are manually driven cars on the road and all the cars will not simultaneously change to autonomous cars in near future, thus we are considering a mixed traffic i.e. connected and autonomous vehicles (CAV) running on the same roads. Under such circumstances, the behaviors of autonomous driven vehicles will have influence on the driving of existing vehicles, and could lead to diminished traffic flow. Since the autonomous vehicles travel at a legal speed or slower, there might be cases of frequent overtaking by manual cars, leading to traffic issues or accidents.

What was the most interesting you have learned in this internship?
For this project, we used simulation software. I needed to code a few scenarios considering the real traffic situation and human behavior. Although it was challenging, I was able to manage it with mentor's advice. It was interesting to learn how to program software using a graphical user interface.

I wish the duration of the internship would be much longer because the team members are so nice to me and other interesting projects are ongoing.
How can the internship help shape your career?
Working in the R&D Department of the advanced automotive section has helped improve my skills as an engineer and gain knowledge in the connected and autonomous vehicles sector, which is expected to become more important in coming years. It will not only add a feather to my hat but also open doors for more opportunities.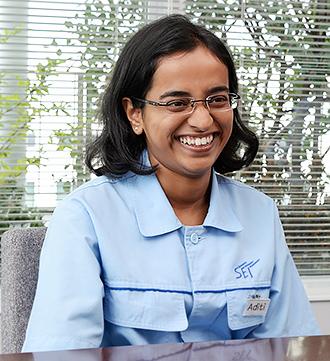 A message to students who consider participating in the internship. This internship program will help you broaden your horizons. If you strive to learn and keep improving yourself in all aspects, then this is the best internship program for you. Knowing a bit of Japanese language and manners will make it much easier.