Toward the realization of a "Glorious Excellent Company"
Toward the realization of a "Glorious Excellent Company"
The Sumitomo Electric Group has maintained an unwavering basic policy of contributing to society through fair business practices under its corporate philosophies of the "Sumitomo Spirit" and the" Sumitomo Electric Group Corporate Principles." We have always conducted our business in harmony with the public interest and have contributed to solving social issues. Our Group will continue to strive to become a "Glorious Excellent Company" in order to contribute to the realization of a better society, and we will work together with our various stakeholders to enhance our corporate value over the medium and long term.
Masayoshi Matsumoto
Sumitomo Electric Industries, Ltd.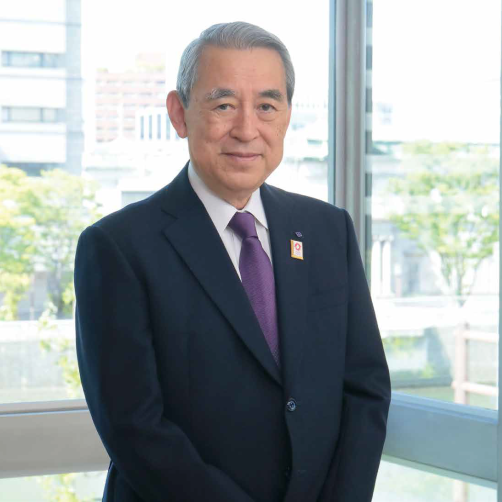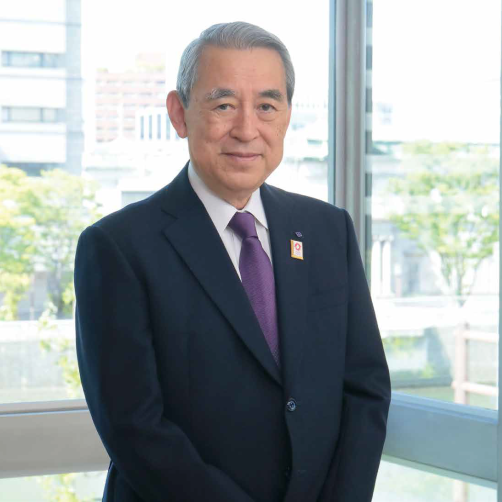 Management Philosophy of Harmony with Public Interests
The Sumitomo Spirit of "harmony with public interests" is the foundation of our long-term development and growth.
Last fiscal year was a year in which the COVID-19 pandemic caused enormous negative impact to society and the economy on a global scale, and we are still caught in the middle of it. In addition to implementing measures that place the highest priority on ensuring the safety of our stakeholders, who include our customers, business partners, employees, and their families, the Sumitomo Electric Group has continuously strived to ensure business continuity in order to fulfill our mission of providing products that support the broader society. Sumitomo Electric began as Sumitomo Copper Rolling Works in 1897, producing copper wires and related products. So the company has formally operated for a little over 120 years, while the original copper business that brought up Sumitomo began about 400 years ago. Under our corporate philosophies of the Sumitomo Spirit and the Sumitomo Electric Group Corporate Principles, we unwaveringly uphold the basic policy of contributing to society through fair business activities. Based on this policy, we have adhered firmly to business practices that are in harmony with society, and I believe that this diligence has been at the foundation of our advances and growth.
Sumitomo Spirit and Our Sustainability
We strive to enhance the sustainability of society through management that emphasizes the public interest and returns to our wide range of stakeholders.
The Business Roundtable (BRT), an association of the chief executives of major U.S. companies, declared in August 2019 that the purpose of a corporation is to create value for all stakeholders, including customers, business partners, employees, and local communities over the long term, reviewing its conventional shareholder-primacy orientation. Multi-stakeholder capitalism was also a major theme at the January 2020 Davos Forum.
I visited the United States in January 2020 to exchange views with BRT and other related parties as part of our initiatives at the Kansai Economic Federation (Kankeiren)*1. As a result, I was able to experience that global trends are changing to multi-stakeholder capitalism. After returning from the U.S., I have been stepping up my efforts to disseminate my opinions by compiling reports and hosting symposiums, with the concept of" starting with the first step." After all, I believe that we must always remember the basic management principle of distributing the fruits of our work according to the volume and contribution of our stakeholders' activities.
There is a management philosophy among many traditional Japanese companies called "sampo yoshi" (good for all three parties: seller, buyer, and society). At the Sumitomo Group to which we belong to, Teigo Iba, our second General Director, left behind the words, "Sumitomo's business must be fundamental business that benefit the nation and society as well as Sumitomo itself." As expressed in the concept of "Mutual Prosperity, Respect for the Public Good," this basic approach of always striving for harmony with public interests has been handed down as the Sumitomo Spirit. In light of these points, it can be said that Sumitomo has long embraced multi-stakeholder capitalism.
In recent years, the importance of improving the sustainability of society has been raised based on the concepts of SDGs and ESG. Taking into consideration that Japanese corporate management is based on multi-stakeholder capitalism and that it is consistent with the traditional management philosophy of Japanese companies, it can be said that the concepts such as SDGs, ESG, and sustainability are embedded in the Sumitomo Spirit.
*1 Kankeiren: The Kansai Economic Federation, a Kansai public interest incorporated association, in which Matsumoto serves as chairman.
The Importance of Cultivating Human Resources and Identifying Leaders
Building on the concept of respect for human resources, we are striving to cultivate human resources and identify leaders who can lead the Sumitomo Electric Group.
At the time I assumed the position of president in 2004, Sumitomo Electric was in a difficult situation, having posted its first net loss in history due to the bursting of the IT bubble. Looking at the history of Sumitomo, there were similarly difficult occasions during the Meiji era. From the end of the Edo period to the turmoil of the Meiji Restoration, the Besshi Copper Mine faced a crisis of survival. At the time, Saihei Hirose, the manager of the Besshi Copper Mine and the first General Director of Sumitomo, strongly argued that foreclosure of the Besshi Copper Mine was against the national interest and obtained permission from the new government to continue its operation.
In those difficult times, what were the thoughts of Sumitomo's predecessors? I personally believe that it is essential to cultivate human resources and identify leaders, and I have been talking about this with everyone from our executives to new employees.
As the saying goes," business is human," so does the Sumitomo Spirit, which is rooted in the concept of "respect for human resources." Human resources are extremely important to a company. Intelligence, strength, and boldness are necessary as the basis of human resources, and with these as a foundation, presence of mind, spontaneity, a spirit of cordiality, and fairness will be cultivated. I believe that it is extremely important for the top management of a large organization such as a corporation to identify such human resources and place them in appropriate positions with responsibility.
If we have a great number of such human resources, the company will prosper greatly, but I am of the conviction that only a person of character can be entrusted with such an important position." Philosophical management" means" courage, fairness, honesty, trust, patience, responsibility, consideration, loyalty, effort, service, and cheerfulness," and the Confucian concepts of "virtue, benevolence, courtesy, faith, righteousness, and wisdom," as well as the four C's (character, civility, courage, and compassion) must be combined in order to become a personality.
As for the required characteristics, in order to put this into practice, it is very important to be richly enterprising, adventurous in spirit, innovative, drive to achieve goals, internationally-minded, socially respectful, and culturally educated (liberal arts).
In terms of how you actually conduct your work having this kind of attitude, it is important that you are logical and rational, that you possess the ability to scientifically plan, that you have the ability to plan and execute, that you are able to expand on your intuitive grasp, and that you are both flexible and consistent. These human resources will accomplish the work and produce results. We will then distribute returns to stakeholders based on a public interest approach and accumulate for expanded reproduction. While tackling these issues, we will promote innovation and deepen SEQCDD*2, expand our credibility and trust, establish brands, avoid price competition, perpetually expand our customer base, and expand the quality and volume of our operations.
Through this series of processes, we will cultivate high-quality human resources. Then we again come back to the idea of personality (philosophical management), and the cycle repeats itself once more. It doesn't always work out, but this is the framework of company management that I present as a principle theory.
*2 SEQCDD stands for the Sumitomo Electric Group's policy of considering and implementing the following elements: S (Safety), E (Environment), Q (Quality), C (Cost), D (Delivery), and D (Development).
The Promotion of Diversity and Inclusion
We will promote the activities of diverse human resources by focusing on diversity and inclusion as a priority matter.
We are currently in an environment where both the company and individual employees must be proactive in solving social issues that are global in scale and complex in nature. Even in these circumstances, in order to prepare the foundation for an accurate direction and practical solutions, it is essential to enhance the resilience of the organization, to improve the degree of perfection of ideas through discussions amongst individuals with different perceptions, and for the company to be able to grow sustainably with a sense of unity. As a foundation for this, I believe it is important to build a strong team in which each individual is mindful of diversity and inclusion. Diversity and Inclusion (D&I) means to embrace diversity and to utilize diversity. D&I is not merely a gender issue but an issue that should be thoroughly considered in management.
Kankeiren aspires to make Kansai a stage that attracts people who are looking for a place to be active. As a part of this, Kankeiren announced the" D&I Guideline, Women who want to be active in the company" in May this year, which presents guidelines for companies that are concerned about promoting the activities of" women who want to use the company as a stage for their activities" in deciding how to respond to them. By taking this occasion, we will promote the development of an environment that contributes to the promotion of the activities of diverse human resources, not only women, and our company will also take the initiative in promoting D&I, thereby aiming to spread the concept to our member companies.
We will Continue Striving to Reach Our Ideal Future State of a "Glorious Excellent Company"
Striving to reach our ideal future state of a "Glorious Excellent Company," we will work to provide value to society and enhance our corporate value over the medium to long term.
The Group will continue striving to reach our ideal future state of a" Glorious Excellent Company."
"Glorious" represents our unchanging, qualitative aims of what we want to be. I believe that our past top leaders, who well understood the essence of what Matsuo Basho said," continuity and change," have recognized the Sumitomo Spirit in the" things that must not be changed." The word" Glorious" means "honorable," but just as the word" Glory" was written on the flag of the Crusades in medieval Europe, this word carries the meaning of" fighting with integrity and being loved." By adhering to the Sumitomo Spirit and pouring our heart and soul into our work, we aim to be a company that is needed and loved by our stakeholders.
Meanwhile, "Excellent" refers to the quantitative aspect of what we want to be, which is to achieve excellent performance as a company through the achievement of the mid-term management plan. We are currently working together as a group to achieve the goals of our mid-term management plan, VISION 2022. The Group has developed its businesses based on a variety of "connectivity and transmission" technologies cultivated through our experience in the production of wires and cables. Our current business development areas are the "Mobility," "Energy," and "Communications" segments and materials that support these fields. While the company's businesses and product groups are diverse and take different forms, the technology is common to all of them, and if you look back at our technology tree, you will find that it is integrated with the technology cultivated in the electric wire and cable business, which is a major strength that supports the company's comprehensive capabilities.
With these technologies as our strengths, the Group is working to respond to various issues related to the global environment, such as efforts to achieve carbon neutrality, promoting digital transformation (DX) in line with the digitization of society and the economy, and strengthening resilience, while aiming to provide value that is environmentally friendly, safe, and secure, and that leads to comfort and social growth. As a result of these efforts, while improving the corporate value of the Group itself over the medium to long term, I would like to make the company a place where people can work energetically with the dream that the world will definitely be better tomorrow than today, and the day after tomorrow than tomorrow.
We hope that we will continue receiving kind support and encouragement of all of our stakeholders.