Message from President & COO
The Sumitomo Electric Group is consistently working to increase its value in the mid to long term and build a better society by mobilizing our broad capabilities and providing solutions to solve a variety of social issues. We draw on a wide range of tangible and intangible assets—our connectivity and transmission technologies, the diversity of business, manufacturing expertise, employees who embody the Sumitomo Spirit and the relationship of trust that we have built with our stakeholders.
Osamu Inoue
Sumitomo Electric Industries, Ltd.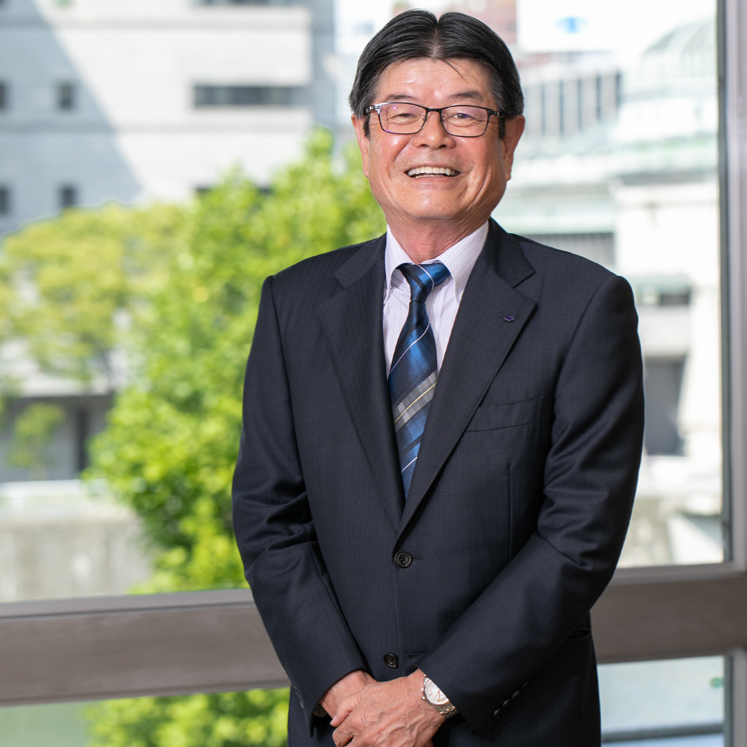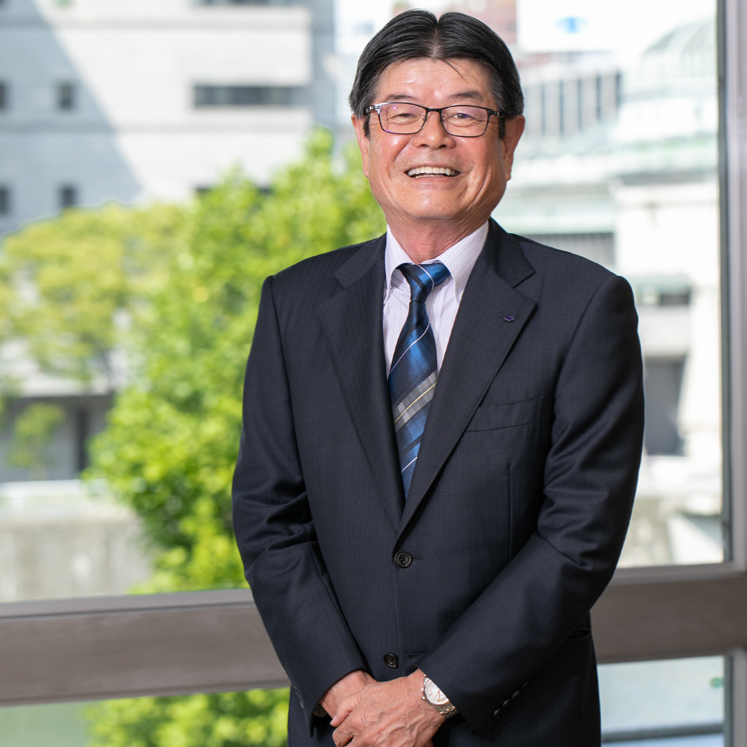 Current business situation and market value
Our five main areas of business are Automotive, Infocommunications, Electronics, Environment & Energy and Industrial Materials. We combine these with new business ventures to expand our business in three key areas: Mobility, Energy and Communications.
In the Mobility field, we contribute to motorization of the society by supplying essential automotive parts such as wiring harnesses and sintered parts. Our traffic control systems are helping to make road transport infrastructure safer, more comfortable and more environmentally friendly, with less congestion. We contribute to enabling the modern transport and logistics networks.
In the Energy field, we supply a variety of products that are essential for reliable power supplies, including various cables for power transmission and distribution networks, switches, transformers and various energy monitoring and control of systems, and batteries that are essential for broader utilization of renewable energy contributing to low-carbon energy for sustainable growth.
In the Communications field, we support the backbone of today's high-speed information-based society, supplying optical fiber cables, optical connector products, semiconductor devices and other products that enable high speed, high-quality communications.
The Sumitomo Electric Group's growth strategies
"Glorious Excellent Company" is the Sumitomo Electric Group's ideal future state. In our current mid-term management plan, VISION 2022, we seek to accomplish this by responding flexibly to major changes in the world around us and achieving stable profitability and growth. We envision how a society would be in about 2030 and outline how we could enable such society and expand our business with a balanced portfolio and provide values in the form of environmental friendliness, safety and security, and social comfort and vitality.
We anticipate major changes to take place; a"revolution" in the automotive sector (such as the expansion of "CASE"), the proliferation of renewable energy and changes in energy management such as diversification and decentralization of power sources, more widespread adoption of 5G and future generations of communications technology, and further use of AI, IoT and big data. Due to the COVID-19 these social changes are likely to materialize faster than expected. It has been two years since VISION 2022 was established, and we can see that the basic direction taken in this plan has enabled us to keep pace with the ways the world has changed. While the Sumitomo Electric Group has developed through the so called "B to B (business to business)" model, I am conscious that it is important to be always mindful of the issues of the end customers and the society ("B to B to C/S"), to accurately determine new directions and mobilize the Sumitomo Electric Group's capabilities, to be able to supply new products and services and demonstrate the solutions.
The Sumitomo Electric Group has so many strengths and assets: the connectivity and transmission technologies we have developed in the 120 years we have been in business, the diversity of our business, the manufacturing excellence we have achieved through years of refinements, our wide-ranging research and development work spanning from materials to systems, our employees who embody the Sumitomo Spirit and the trust we have earned from our stakeholders. A company like ours that has worked in so many areas of business is well poised to solve a number of issues. And we welcome working with our partners within and outside the Sumitomo Electric Group to fulfill the resources and capabilities when needed. This is a great example of how we respond flexibly to challenges to build a better society, solve a variety of social issues and increase our value in the medium to long term.
Our response to the challenges posed by COVID-19
Upon the outbreak of COVID-19, our company established a COVID-19 Response Unit, led by me as the president and COO, and built a framework to enable us to assess how COVID-19 would affect our business bases around the world and respond quickly. We used these resources to improve the way we run our manufacturing sites, strengthening the improvement activities and on-site education and training we have always carried out, and tightening up our performance in SEQCDD*, the fundamentals of manufacturing.
* Safety, Environment, Quality, Cost, Delivery, and Research & Development. The Sumitomo Electric Group's policy is to place these at the forefront in everything we do.
Our corporate staff departments are assessing the effects and issues that arose from "work-from-home" work styles and considering how we can redesign our operations and the way we work to improve productivity when the pandemic is over. Our business continuity plan helped us to maintain our supply chain, although we are reflecting on whether we sufficiently assessed the situation of tier-2 and tier-3 partners, and are applying what we have learned from this situation to make improvements such as expanding multiple sourcing.
The greater frequency and scale of disasters in recent years has also highlighted a need to strengthen risk management around our supply chains, and it is clear that we need to conduct regular reviews of our business continuity plans.
COVID-19 pandemic has further accelerated the digitalization of the business world, environmental concerns, and initiatives to increase resilience. While the Automotive segment was the most negatively impacted the Communications segment did relatively well, and it has raised us a renewed awareness of the importance of having a diversified portfolio and not being excessively selective or focused on specific areas. We intend to make our business framework stronger to adapt to these rapid changes in the business world and steadily develop businesses and products in our five areas of business to meet various demands in future. We believe this would allow us to achieve a "V-shaped recovery" after the pandemic, and this approach is already a part of the culture of the Sumitomo Electric Group.
The value the Sumitomo Electric Group offers
The Sumitomo Electric Group has always supplied products for social infrastructure and industrial materials in the "B to B" sphere. Take our Environment & Energy business for example. We are the only company in Japan today that supplies a full range of electric cables from ultra-high-voltage to low voltage, and we are conscious every day of how much our customers are relying on us. Copper wire rods are the backbone of our production in this area and have been behind the building of electrical infrastructure throughout society. With a further shift to renewable energy expected to take place in future, our Environment & Energy business will have a lot to contribute. In Communications, we have been involved in the building of Japan's optical fiber network, which has transformed communications infrastructure. We see vast potential for further contribution to the building of info-communications infrastructure in future: as a supplier of optical submarine cables and relay devices with a high degree of added value, and components for transmission devices used in antennas, we will be involved in providing solutions for increasing volumes of communications data and the popularization of 5G and future generations of communications technology.
We estimate that we are among the top shares of the world's market for automotive wiring harnesses. While the form of these products may change, wire harnesses are an essential product in automobiles, and we will capitalize on our economies of scale and global supply chain to make further contributions to a society where cars are commonplace. With that said, major changes are currently taking place in the automotive industry. For example, the rise of "CASE" was expected to result in an increase in ride sharing, and there was speculation that demand for new cars could decrease globally, but with the outbreak of COVID-19, some reports say that people are reluctant to travel in shared cars. OEMs are keen observers of customer trends and so should the Sumitomo Electric Group be. We keep an eye on what our customers gravitate to so that we can offer them the products and services they are looking for.
In VISION 2022, the mid-term management plan that we are currently working on, we envisaged a society at about 2030 as a "smart society," where people and items are connected through networks such as infocommunications, electricity and transportation, for coordination and optimization. One thing I think we can say for certain is that mobility, energy and communications will not be discrete areas in the society of the future. We certainly seem to be heading in that direction, and COVID-19 has seen those changes happen faster than expected.
Ultimately, we will need to adapt our business based on what our customers are looking for. As the manufacturing industry becomes more service oriented, we may need to adjust the business framework of the Sumitomo Electric Group to become more solutions-based. It will no longer be enough to simply make things. We will need to think about the scope of services we can offer and what kind of value we can offer our customers, and the changes we will need to make will be all encompassing, right down to the framework of our business operations.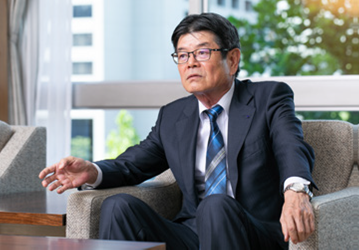 Diversity and changes in the way we work
The Sumitomo Electric Group currently has over 280,000 employees in about 40 countries around the world. In order for Sumitomo Electric to outperform our competition around the world and grow further, it is essential that we fully mobilize our technologies, products, business models and all other resources, and our employees are the backbone of it all. It is crucial to hire diverse, high-performing employees and give them a working environment that will keep them motivated and get the best out of them.
When I worked at one of our subsidiaries in Europe, there were employees of all nationalities and gender in every level of management. While manufacturing companies in general might have not attract many women, it was clear that our companies in Japan needed to be more diverse than they were.
We have now taken a variety of measures here in Japan to promote diversity and improve our working conditions, including building a framework to support employees balancing work with life situations such as raising children or caring for family members, changing the format of our work, introducing and then expanding our work-from-home arrangements, supporting non-Japanese employees and hiring more employees with disabilities. In June 2020, we established a Diversity and Inclusion Department, reporting directly to the president, to accelerate these measures and entrench them further in our companies.
Generally speaking, many Japanese companies have relied on a certain level of homogeneity to accelerate our growth: we hired in April, taught our employees to be generalists and sought to be a company where everyone thinks the same thing and is heading in the same direction. Going forward, excelling in competition will depend on diverse employees bringing different strengths to the table. I want to encourage every employee to become an expert in at least one area and then use that expertise to take on challenges such as solving social issues. My background is in accounting, and in addition to many years of experience overseas, I have expertise in Japan-based accounting that has served me well in many settings overseas. I find new things interesting and I always try to get to the bottom of what systems are in place. When you enjoy your job, you are interested in the products you handle and the work that you do, and that makes you want to learn more. If you have a base of expertise, you can come up with good solutions to problems when you encounter new situations.
The company I want Sumitomo Electric to be
As the president and COO of Sumitomo Electric I would like to achieve a better balance in the company's portfolio. This means accelerating the growth in the segments other than the Automotive segment. We will strengthen the competitiveness of our main products such as power cables and magnet wires in our Environment & Energy segment, and battery tab leads in our Electronics segment. In addition, we will develop new businesses that would contribute to solving social issues; such as superconductors and redox flow batteries, and build on our basic materials technology to develop unique new products in the cemented carbide tools area. I particularly pay my attention to promote synergies among the business units. Each month, I schedule periodic dialogue with the business unit heads and share with them information such as factory locations that would become available globally for other business unit might utilize.
I believe that by making these efforts step by step towards 2030, we would materialize the vision we set out in VISION 2022 and onwards, and continue to be a company with solid standing and presence. You can expect a lot from the Sumitomo Electric Group in the years to come.