What is Thunderbolt™ Technology?
Thunderbolt™ technology is a universal cable connectivity solution that offers 40 gigabits per second (Gbps) bandwidth for high-speed data and video transfer, while also charging your laptop over a single cable. It uses the same Type-C connector as other USB Type-C (USB-C) ports.
However, Thunderbolt™4 technology is much more than a USB-C connector. Thunderbolt™ brand certification mandates higher minimum performance and capabilities for cables, PCs, and accessories for greater reliability across devices and operating systems. As the most complete and highest standard of USB-C connections available on the market, Thunderbolt™ 4 technology is backwards compatible with its prior generation as well as millions of USB3 and USB4 products.
Thunderbolt™4 Features and Benefits
Thunderbolt™4 offers distinct advantages over USB-C with a more flexible and expansive set of capabilities. Productivity, content creation, and gaming applications can all benefit from Thunderbolt™4 technology with cleaner workspaces and more bandwidth to support more accessories.
Power, Data Transfer, and Video Display in One
Thunderbolt™4 ports and cables support the trifecta of power charging, data transfer with bidirectional movement and video display in one interface. For example, with a Thunderbolt™-enabled laptop, display, and cable, the laptop can pass a video signal to the monitor and the monitor can charge the laptop at the same time. Thunderbolt™4 delivers:
High bandwidth

40Gbps of bandwidth dynamically allocated for data and video, ideal for heavy workloads or fast file transfers.
Quick charging

Up to 100W of power for laptop charging and up to 15W for computer-powered accessories.
Rich display options

Up to two 4K 60 Hz displays or one 8K 60 Hz display on a single connection.
External Graphics, Storage, and PCIe Enclosures
The high bandwidth of Thunderbolt™4 allows end users to connect their computers to external GPUs, storage drives, and PCIe enclosures. PCIe connectivity is not supported by USB3 and is optional for USB4, whereas Thunderbolt™4 offers the most flexibility in which devices you can connect.
With external graphics, gamers can play at recommended visual settings and higher frame rates, even on thin and light notebooks. Creators can significantly reduce rendering and export times to boost their productivity and output.
External storage makes it possible for gamers to play their games with large file sizes directly from an external drive, freeing up valuable storage space on their computer. Creators can quickly back up huge video and photo files for additional peace of mind.
The ability to connect an external PCIe enclosure allows for even more possibilities, such as video capture cards.
Faster Data Transfer
The Thunderbolt™4 standard requires a total bandwidth of 40 Gbps, which it dynamically allocates between data and video for all devices on a single connection. Compared to the variable speeds of USB4, this requirement ensures that connections are always delivering peak file transfer speeds to support productivity, gaming, and content creation.
Daisy Chains, Hubs, and Docks
Connect multiple Thunderbolt™ devices together in a daisy chain. Data, power, and video signals can flow from the computer and down the chain into five additional accessories. Also connect multiple devices into a Thunderbolt™ hub or dock that can be plugged into a Thunderbolt™ computer to consolidate all accessories into a single connection.
Thunderbolt™4 Cables
Thunderbolt™4 cables can connect to USB and DisplayPort accessories with lengths of up to two meters to give users more flexibility in setting up their workstations and gaming centers.
PC-to-PC Networking
Users can connect Thunderbolt™-enabled computers together to establish a security-enabled connection between the devices at speeds faster than a 10 Gb Ethernet connection. This connection facilitates quick and easy file sharing, especially for large files.
OS Driver Support in Windows11
With the launch of Windows11, Microsoft has brought Thunderbolt™ drivers from the firmware level and integrated them into the OS. Windows11 snap layouts will also work with multiple 4K displays connected over Thunderbolt™.
I would like to check if Thunderbolt™4 cables can be used on my device?
Please check the connector part of your device to confirm it is a USB-C connector and has Thunderbolt™ mark.
I would like to know about Thunderbolt™4 compatibility.
①Can I connect a Thunderbolt™4 cable to USB4 supporting device?
Thunderbolt ™4 meets all the USB4 requirements including optional functions. Therefore, you can reliably connect to USB4 devices.
② Can I connect Thunderbolt™4cable to a Thunderbolt™3 supporting device?
Thunderbolt™4 cables are backward compatible, and you can connect to Thunderbolt™3 devices.
Please let me know difference between Thunderbolt™4, Thunderbolt™3, USB4 and USB3/DP.
Please refer to the table below.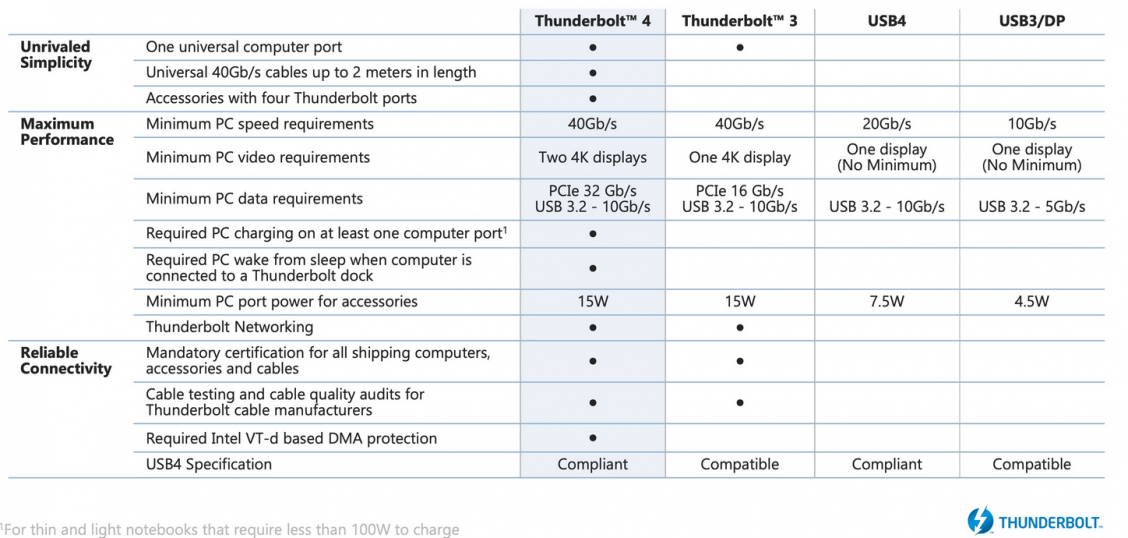 Warranty
Warranty period is one year. If you have any questions, requests for troubleshooting, etc., please proceed to the button above.
※
Intel, Thunderbolt and the Thunderbolt logo are trademarks or registered trademarks of Intel Corporation in the U.S. and other countries. USB Type-C, USB-C and USB4 is a trademark or registered trademark of USB Implementers Forum. Windows and Microsoft are trademarks or registered trademarks of Microsoft Corporation in the U.S. and other countries.