Sumitomo Electric to Exhibit Optical Communication Products at GITEX GLOBAL 2023
Sumitomo Electric to Exhibit Optical Communication Products at GITEX GLOBAL 2023
11 October 2023
Sumitomo Electric to Exhibit Optical Communication Products at GITEX GLOBAL 2023
Sumitomo Electric Industries, Ltd. will exhibit at GITEX GLOBAL 2023, one of the largest information technology exhibitions in the Middle East region, to be held in Dubai, United Arab Emirates from October 16 to 20, 2023.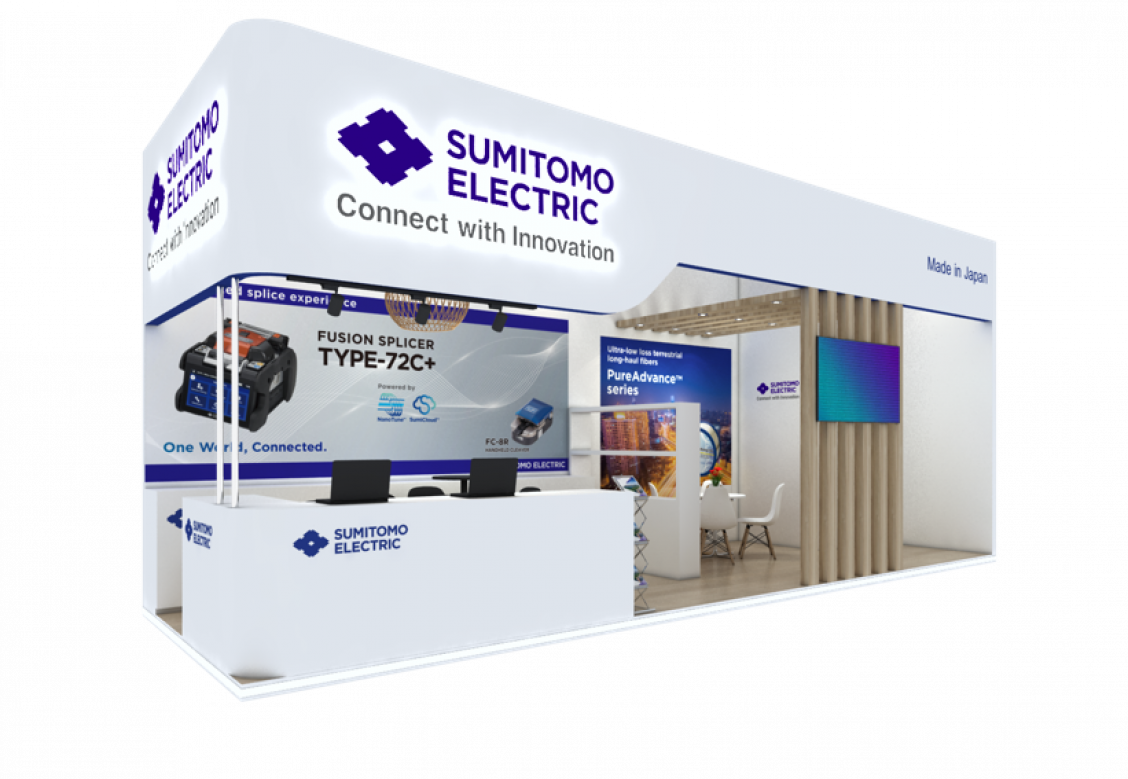 Sumitomo Electric's high-definition core aligning fusion splicer TYPE-72C+ is equipped with its patented artificial intelligence technology NanoTune™, which enables fine tuning and fusion splicing regardless of the operating environment or skill level. It also has excellent features such as high splicing quality and high-speed fiber reinforcement. Other products featured at the exhibition will include the PureAdvance™ series, ultra-low attenuation and large core optical fibers, which are designed for long-distance and high-capacity optical signal transmission. In addition, the Company's new ribbon fusion splicer TYPE-72M12+ and other telecommunication-related products will be on display. Assembly demonstrations of the field installable connector Lynx-CustomFit™ Splice-On Connector will also be conducted.

GITEX2023 is a large-scale exhibition that showcases cutting-edge IT-related products and technologies for next-generation trends such as telecommunications, cybersecurity, data economy, digital city x AI, future mobility, and healthcare.

Please visit the Sumitomo Electric booth.

「GITEX GLOBAL 2023」 Exhibition Outline
Date
Monday, October 16 - Friday, October 20, 2023
Venue
Dubai World Trade Centre, United Arab Emirates
Booth No.
H20-08
Official website
https://www.gitex.com/
Exhibits
・Fusion splicers: TYPE-72M12+, TYPE-72C+, T-57C+, etc.
・Optical closures: GP8 series
・Optical connectors: Lynx-CustomFit™ series
・Optical cables: High count cable, micro cable series
・Optical fibers: PureAdvance™ series
・Multi-core fiber
〈References〉
・Sumitomo Electric Fusion splicers
Website
https://global-sei.com/sumitomo-electric-splicers/
LinkedIn*
1
https://www.linkedin.com/showcase/sumitomoelectricfusionsplicer/
Facebook*
2
https://www.facebook.com/sumitomoelectricsplicer/
・Sumitomo Electric Optical fiber-related products
Website
https://global-sei.com/fttx/
LinkedIn*
1
https://www.linkedin.com/showcase/sumitomo-electric-fiber-optics-products/
*1 LinkedIn is a trademark or registered trademark of LinkedIn Corporation and/or its affiliates in the U.S. and other countries.
*2 Facebook is a trademark or registered trademark of Meta Platforms, Inc. in the U.S. and other countries.