President's Message
The President presents an overview of Sumitomo Electric Group's business performance.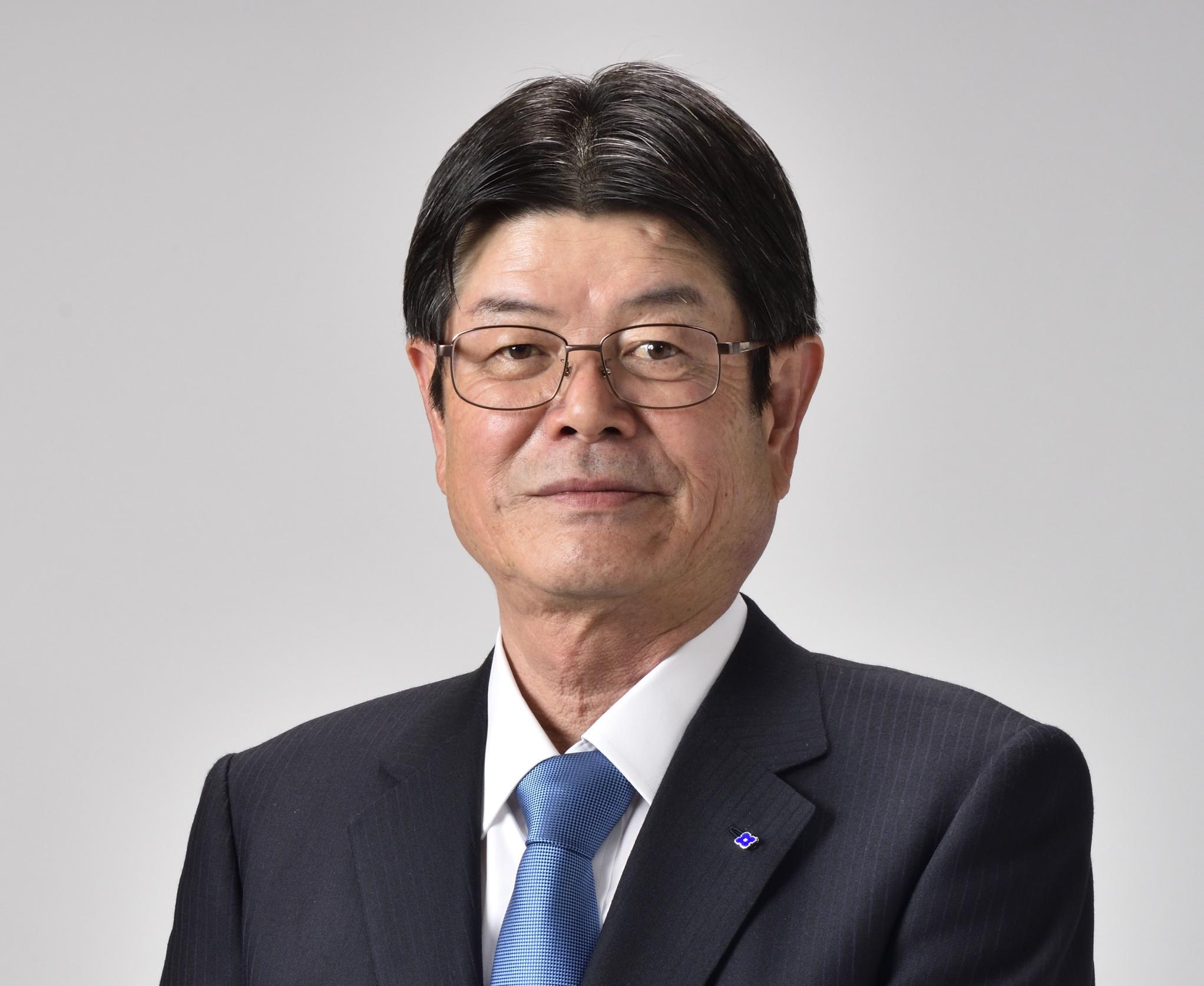 To Our Shareholders
On behalf of the Sumitomo Electric Group, I would like to express our sincere appreciation for your daily, generous support of us.
I would like to report on our group's business performance for the fiscal year 2021.
Business performance for the fiscal year 2021
During the fiscal year 2021, the global economy recovered moderately in various regions, including Japan, Europe, America, and other Asian countries as vaccines against COVID-19 became widely available. However, the outlook remained uncertain due to intermittent restrictions on economic activities in many countries because of the spread of infections with variant strains of the virus, and the global semiconductor supply shortage, soaring material prices, and logistics stagnation, as well as the escalation of tensions in Ukraine since February this year.

The business environment surrounding the Group was challenging with soaring material prices, increasing logistics costs due to container shortages and harbor congestion, and a decrease in automobile production owing to a shortage of semiconductors and other components. In this environment, we worked to thoroughly reduce costs and maintain our supply chain. As a result, the consolidated results for the fiscal year were net sales of 3,367,863 million yen (previous fiscal year: 2,918,580 million yen; +15.4%), operating income of 122,195 million yen (previous fiscal year: 113,926 million yen; +7.3%), ordinary income of 138,160 million yen (previous fiscal year: 114,072 million yen; +21.1%), and profit attributable to owners of the parent of 96,306 million yen (previous fiscal year: 56,344 million yen; +70.9%). Sales and profits increased from the previous fiscal year, which was severely affected by the novel coronavirus infection.
Key issues to be addressed
The economic situation going forward is expected to remain uncertain as the risk of spread of infection with new variant strains of COVID-19 remains, and due to concerns including rapidly increasing political and geopolitical risks, such as the situation in Ukraine, a decrease in automobile production due to semiconductor supply shortages, the prolonged price hikes for materials, and logistics disruption.

Under these circumstances, the Group will strive to improve the basics of the manufacturing business, namely SEQCDD (Safety, Environment, Quality, Cost, Delivery, and Development), while continuing to give top priority to employee health and safety, as well as to the maintenance of the supply chain, with the aim of becoming a "Glorious Excellent Company." In terms of our efforts to improve capital efficiency, we will strive to optimize our inventory balance and the balance of operating receivables and payables, and be selective in capital expenditure projects to improve ROIC, which we regard as an important index. We will also step up our efforts to increase highly profitable items and pass on material prices and logistics costs to selling prices. By doing so, we will pursue the following strategies in each of our business segments by position fiscal year 2022, the final fiscal year of the medium-term management plan "VISION 2022," as a year in which we will do our utmost to achieve our medium-term goals.
In the automotive segment, we will work to further reduce costs and improve production efficiency under this situation where automobile production trends are unpredictable due to the effects of the global semiconductor supply shortage etc. and will continue to build a lean corporate structure that can endure demand fluctuations. In addition, to become a mega supplier with wiring harnesses as its core products, the Group will create and market new CASE-related products, such as high-voltage wiring harnesses for electric vehicles and connectors for high-speed communication, by promoting proposal-based marketing. It will also expedite the use of aluminum for harnesses to meet the need for weight reduction, as well as strive to further expand its share among overseas customers. Sumitomo Riko Company Limited will strive to restore profitability by strengthening global support, integrating and consolidating business sites within and outside of Japan, and reducing costs, in the field of automotive anti-vibration rubbers and hoses. It will also focus on developing new products for next-generation vehicles.
In the infocommunications segment, to address the expansion of the market for cloud services and the full-scale launch of the fifth-generation mobile communications system (5G), we will strive to increase production capacity and capture the demand for products related to data centers, such as various optical cables including ultra-high-fiber-count optical fiber cables, optical wiring equipment, and optical devices. We will also strive continuously to develop and market high-performance products that respond to social trends and market needs, such as extra low-loss and large capacity optical fibers for submarine cables, electronic devices for 5G base stations, and network access equipment that enables high-speed and large capacity communications. In addition, we will make efforts to to improve profitability through thorough cost reductions.
In the electronics segment, with regard to FPCs (flexible printing circuits, we will continue to expand the sales of high-performance products that utilize fine circuit fabrication technology and to improve profitability through productivity improvements. We will also accelerate the sales of products for automobile application and the development of new products with high frequency characteristics. We will strive to expand business by capturing various customer needs with regard to lead wires (tab leads) for battery terminals of electric vehicles, wires for motor-driven parking brakes, and heat shrink tubes, which utilize irradiation cross-linking technology, and water-treatment systems that utilize fluorine resin processing technology. In addition, we will continue to work on increasing business synergies with TECHNO ASSOCIE Co., Ltd.
In the environment and energy segment, we will continuously strive to capture domestic demand for replacement of power cables, and make efforts to increase orders for projects related to renewable energy, such as interconnection lines between countries and regions and wind power generation, whose markets are expanding globally toward a decarbonized society, and focus on cost reductions, quality improvement, development of new products, and strengthening project management. In addition, with regard to flat magnet wires for motors used in electric vehicles, we will enhance global production capacity to capture the increasing demand and improve profitability through cost reductions. Furthermore, we will make efforts to increase orders while taking advantage of the Group's integrated capabilities, including those of Nissin Electric Co., Ltd. and Sumitomo Densetsu Co., Ltd.
In the industrial materials segment, we will make sure to capture firm demand for cemented carbide tools by strengthening our global marketing power and strive to expand our market share by proceeding with new market development for tools for electric vehicle components and aircraft components. With regard to sintered powder metal parts, we will work to further strengthen the marketing of products for electric vehicles and the cost competitiveness of each of our global production bases, in order to ensure future business development. As for prestressed concrete and precision spring steel wires, we will strive to improve profitability by strengthening the global production and sales organization and developing new products.
In research and development activities, we will make efforts to create new businesses and products that are original and excel in profitability. We will focus on new businesses, such as superconducting products, SiC (silicon carbide) power semiconductor devices, and redox flow batteries. As next-generation products that support the current five business segments, we will focus on developing new products in response to society's needs, including post-5G and next generation mobile communications systems; transmission equipment, devices, optical fibers, and electronic products, which are used for data centers, optical submarine communications, etc., and power cable materials and materials for automobiles and industries that contribute to a reduction in the environmental burden, and we will do so by proactively utilizing outside knowledge through collaboration between academia, industry, and government. In addition, we will work toward production innovation by utilizing AI and IoT at manufacturing sites, and further revitalize and accelerate research and development activities by strengthening collaboration with Production Group and Sales Group.
I believe that compliance with laws and regulations and maintaining corporate ethics constitute the foundation of the Company's management, and that they are the absolute basis for continuing and developing as a corporation. We will continue to sincerely practice fair corporate activities that earn the trust of society based on the principles of the Sumitomo Spirit, which values doing your sincere best, not only in business but also in every aspect of your life, placing importance on integrity, and not acting rashly or carelessly in pursuit of immoral business. I believe that the Sumitomo Spirit and the Sumitomo Electric Group Corporate Principles share common core values with the SDGs (Sustainable Development Goals). In particular, in our environmental efforts, we aim to reduce greenhouse gas emissions by 2030 to the level required by the Paris Agreement, and will strengthen our responses to achieve carbon neutrality by 2050.
Lastly, in order to present the Group's vision in the midst of various social reforms that are currently taking place, we have established the "Sumitomo Electric Group 2030 VISION," our long-term vision whose milestone is 2030, which we published in May 2022. This long-term vision explains our course of action for providing various types of value through the mobilization of all resources of the Group toward the realization of a "safe and comfortable life on our green planet." In addition, as a specific business plan under this long-term vision, we will establish a medium-term plan that will continue for a term of three years from fiscal year 2023, and steer the helm of management to appropriately respond to an ever-changing business environment and to enhance our corporate value in the medium to long term.

I thank you for your continued support and encouragement going forward.
Osamu Inoue writes about various daily events and happenings on his blog. To view the blog.
President's Blog