Receiving Industrial Standardization Activity Award from the Ministry of Economy, Trade and Industry of Japan
Receiving Industrial Standardization Activity Award from the Ministry of Economy, Trade and Industry of Japan
Receiving Industrial Standardization Activity Award from the Ministry of Economy, Trade and Industry of Japan
Contributing to standardization for more than 70 years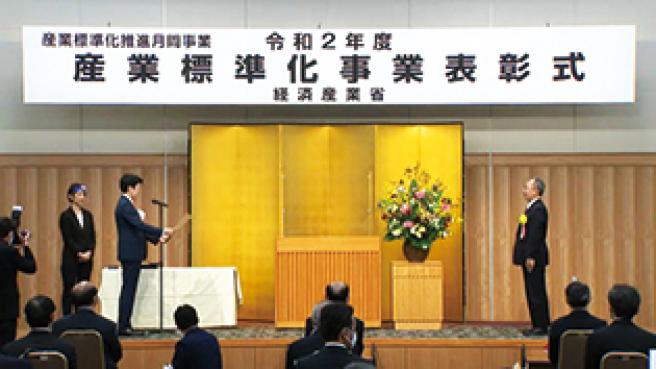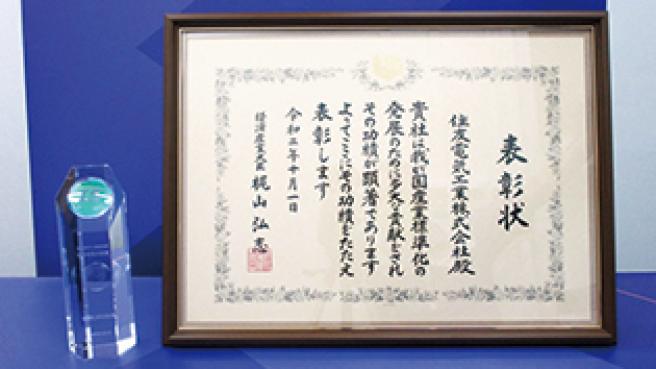 In 1949, the Industrial Standardization Act came into effect in Japan, and this has been serving as a foundation for standardization activities for industrial products. Standardization refers to activities related to the establishment of rules on product quality, dimensions and test methods, among others. Sumitomo Electric has been involved in electric wire standardization activities since before the establishment of the Act. Since then, it has continuously sent experts to technical committees, such as those dealing with electric power infrastructure—including power transmission/distribution cables, industrial wires, overhead electrical conductors and flow battery systems—and automotive/road traffic control systems, broadband telecommunications, fiber optics and industrial materials.

Moreover, in the area of superconductivity, Sumitomo Electric has served as an international secretariat for more than 30 years and has made a positive contribution to product proliferation and expansion of the market. In addition, it has often provided its personnel as International Electrotechnical Commission (IEC) council members. As exemplified by these activities, the Company is involved in standardization activities not only in Japan, but also internationally.

Sumitomo Electric has recently received the Industrial Standardization Activity Award 2020 (Commendation by the Minister of Economy, Trade and Industry) from the Ministry of Economy, Trade and Industry (METI) in recognition of its years of contribution to standardization activities, such as the establishment of international standards at the IEC and the International Organization for Standardization (ISO) and the establishment of Japanese Industrial Standards (JIS) as a foundation for industrial development and growth. The Commendation by METI is intended for individuals and organizations with distinguished achievements in industrial standardization. Sumitomo Electric will continue to contribute to market growth through the establishment of rules and endeavor to implement innovations in society by actively pursuing standardization activities in Japan and abroad.