Sumitomo Electric Group The Professionals ~Akira Nishimura~
Sumitomo Electric Group The Professionals ~Akira Nishimura~
Devoting my youth to R&D of optical cables
About 40 years ago, I was a university student but not the academic type. I spent most of my time mountain climbing and river trekking through club activities. Nevertheless, I studied hard at least during my two years at graduate school. I majored in applied mathematics and physics. My research theme was to convert data into mathematical equations and build mathematical models to be used for control theories. While I was job hunting, I hoped that I would be involved with actual products in some way. The field of applied mathematics and physics dealt with theory, so I wanted to handle something tangible in my career. At that time, I learned about the research that was being done on optical fiber at Sumitomo Electric from my senior in the laboratory. We were at the dawn of the era of optical fiber at that time. Optical fiber was expected to become an indispensable product for the society of the future. I thought that optical fiber had significant potential. I joined Sumitomo Electric because optical fiber was highly attractive. I also learned from some former students that the Company had a culture to assign young employees to important tasks. This was another reason that strongly motivated me to join Sumitomo Electric.

As optical fiber enticed me to join the Company, I requested that the Company assign me to a section involved in R&D of optical fiber and optical cables.* The Company agreed with my request, and I was assigned to the R&D Unit in Yokohama. At that time, optical cables had just begun to be introduced in Japan. There was a basic concept to connect all offices and households via an optical fiber network. The competition was very intense, and I literally devoted myself to research day and night so that our customer, a communication carrier, would use our optical fiber cables. We succeeded in increasing the fiber density (600 to 1,000 cores) to reduce the outside diameter of cables. When our proposal was finally adopted, I had a sense of accomplishment as a researcher.
Overcoming the challenge to expand sales for local communication carriers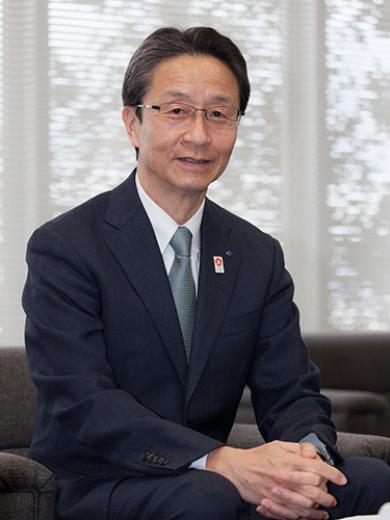 I was directly engaged only in R&D during my first seven years after joining the Company and after I became Head of the R&D Unit in 2020. For more than 25 years, I was constantly affiliated with the Communication Division and Optical Fiber & Cable Div. I was involved in expanding sales of our optical cable products based on a technical approach to customers. In the early 2000s, we worked on a project which I clearly remember. Until then, we sold our products mainly to communication carriers. I was in charge of expanding sales in the local communication carriers. At that time, our share of this market was about 10%. I had to increase our share. Previously, the entire division had focused on major communication carriers, so it was necessary to change our mindset. As the leader of the operation group of the division, I asked that engineers be stationed at branches in the frontline and organized a team that enabled smooth collaboration and cooperation between the sales staff who received technical information from customers and engineers. I worked with the sales staff to build a structure to expand the Company's sales in this market. As a result, our share of this market expanded to over 50%. I was able to produce substantial results, which seemed to have impressed senior members who were working hard at the frontline of sales operations at that time. When I was appointed Managing Director, I received a congratulatory email from a retired employee. It contained a message that highly evaluated my efforts at that time. I felt grateful and deeply pleased because a person with whom I had worked valued not only the results but also the process.
I also faced difficulties after I was promoted as director of the division. Demand for optical cables in Japan slowed down, and the price also dropped. We had to change our policy and expand demand in foreign markets. However, the yen was getting stronger, and our export competitiveness was still low at that time. In addition, the Great East Japan Earthquake wreaked havoc on our plant, which put us in an extremely tough situation. To achieve a breakthrough, we worked as a team and continued to patiently make steady efforts, including extensive cost reduction efforts and expansion of sales both within Japan and overseas, and promotion of joint ventures in China. We managed to go back into the black in terms of operating income two years later. This strongly reminded me that we can produce results beyond our imagination by sharing a vision and joining our efforts through teamwork.
Communication capability: a must for researchers
In my work, I have always made it a rule to squarely face issues, make fair judgments, and fulfill my role. Notably, a leader must continue to advocate the ideal situation. When a difficult problem arises, I sometimes receive a plausible explanation—including the situation and circumstances—of why the problem cannot be solved. However, all efforts go up in smoke if I accept such an explanation. Continued efforts to advocate our ideal situation based on a correct understanding of the situation bring results beyond our imagination. Such an attitude of a leader helps fully unleash the potential of a team.

As the Head of the R&D Unit, I am responsible for managing all R&D, except for R&D undertaken by the Automotive Business Unit. "MoECo" (mobility, energy, and communications) has been promoted as a next-generation R&D field. Resources have been allocated to interdisciplinary fields as well. To achieve a decarbonized society, which has been attracting increasing attention, we have focused on developing technologies in the new energy field, and we remain committed to actively promoting the development of technology in this field.

I have a message for all young researchers. It is necessary to identify the value for customers and the advantages you can offer over your competitors from a broad perspective instead of sticking to what you think is important. Obviously, researchers conduct research for business reasons. To make business successful, it is essential to place top priority on the customers' viewpoint, not yours. Collaboration with external partners is also required through open innovation and other arrangements. This requires communication capability in addition to a broad perspective. The social environment has been changing significantly. This poses difficulties but also offers opportunities to change the game. To take advantage of such opportunities, it is necessary to quickly meet customers' needs and work with strong determination to accomplish the goal. To support young researchers who will be future leaders, we will develop and create an environment where they can have hope in the future and fully demonstrate their knowledge and talent.
* Optical fiber refers to a medium made from thin glass fiber for transmitting optical signals. Optical cables are designed to be durable for indoor and outdoor use by stranding optical fiber cores and providing a sheath.
PROFILE
Akira Nishimura

1984
Joined Sumitomo Electric, assigned to the R&D Unit

1991
Communication Div.

2003
General Manager of the Engineering Dept., Optical Fiber & Cable Div.

2008
General Manager of the Overseas Engineering Dept., Optical Fiber & Cable Div.

2009
General Manager of the Planning Dept., Optical Fiber & Cable Div.

2010
Director of the Optical Fiber & Cable Div.

2013
Executive Officer, Deputy General Manager of the Infocommunications Business Unit, Director of the Optical Fiber & Cable Div.

2015
Managing Executive Officer, Deputy General Manager of the Infocommunications Business Unit

2016
Managing Director, General Manager of the Infocommunications Business Unit

2019
Senior Managing Director, General Manager of the Infocommunications Business Unit

2020
Current position