Sumitomo Electric Group The Professionals ~Masaharu Kayano~
Sumitomo Electric Group The Professionals ~Masaharu Kayano~
Press tools——A key item for manufacturing sintered components
I have consistently been engaged in press tool manufacture since I joined Okayama Sumiden Seimitsu Ltd. (current Sumitomo Electric Sintered Alloy, Ltd.). Tools are metal frames to accurately mass-produce industrial components, which support our daily lives, by pressing or using other process methods. Tools are called "the origin of manufacturing," since the quality and performance of a product are greatly affected by the quality of the tool. The tools on which I have worked are used to manufacture "sintered components," as you may see from the name of our company. Sintered components are manufactured by a powder metallurgical process, in which fine powder of multiple metals such as iron is compacted by compressing it in tools and sintered at high temperatures over 1,000°C. Due to their high dimensional accuracy, sintered components are widely used as key components of various products such as automobiles, agricultural machinery, office equipment and home appliances.

Although our company used to outsource press tool manufacture, in 1984, when I joined the company, a project of in-house manufacture started, and I was appointed as a member of the project team. So I am an inaugural member of press tool in-house manufacture in our company. Since I majored in welding at university, I did not have any knowledge about press tool. To acquire technical skills and know-how, I received on-the-job training in the tool department of Sumitomo Electric in Itami for a year, and in 1985, we started full-scale in-house manufacture of tools. As mentioned earlier, the quality of tools significantly affects the quality of the products; therefore, extremely high accuracy is required for tool manufacturing. Since it takes about a month to complete tooling, failure could significantly affect the delivery time of the products. The in-house manufacture of tools was a big project, so mistakes were not allowed. We started the operation with a sense of tension.
Trying a challenging task is a highly meaningful process
Press tool manufacture is a highly professional job category, in which cutting-edge equipment and expertise are required. I have developed my expertise by steadily absorbing technical skills and know-how. I once had an impressive experience. Although the strength and other properties of tools are sufficiently verified at the stage of design, unexpected problems, such as breakage, cracking or chipping, could occur in the process of compacting.

For example, we manufactured cemented carbide tools for compacting by shrink fitting, in which compressive stress is produced beforehand by confining a tool with a steel outer ring to increase the strength. The tools frequently broke due to insufficient strength because our manufacturing process relied only on experience at that time. To solve this problem, which was a huge burden on our plant, we repeated finite-element method analysis, which was still in the early stage at that time and difficult to understand, and verification tests, finally developing a drum-shaped tool shrink fitting method that could maximize and optimize the strength and drastically extend the service lives of the tools. It was then innovative to solve a technical problem of tooling by tracing back its origin to the tool design.

In 1993, my ninth year after joining the company, I was appointed as an examiner of the Okayama Prefectural Proficiency Test Commission, which became one of the turning points in my career. The proficiency test is a national examination system to evaluate the level of skills required to work as a professional in 130 categories, such as machining and carpentry, and successful examinees are permitted to title themselves as "certified technicians." Proficiency test examiners assume the responsibility for developing testing procedures, scoring and supervising at testing sites, and other various things to implement the test. To tell the truth, I did not originally aim to become a proficiency test examiner. At that time, machining and electrical discharge machining were added to the job categories of the proficiency test, so our company encouraged employees to take the test. That was the start of my involvement in the proficiency test. The company expected that employees would develop their self-confidence by obtaining the certification, but at the same time, it believed that trying such a challenging test by itself was meaningful. Those who decided to try the proficiency test earnestly and continuously practice until the day of the test. During the test, the examinees operate machines with intense expressions on their faces. The series of efforts needed to pass the test is an extremely important process, improving the employees' professional skills and job quality, thereby motivating them even further. When I was involved in such an in-house training program, the company was requested by the Okayama Prefectural Government to recommend a proficiency test examiner, for which I was appointed. Since then, I have assumed the position for about a quarter of a century. Our company has produced about 50 certified technicians to date.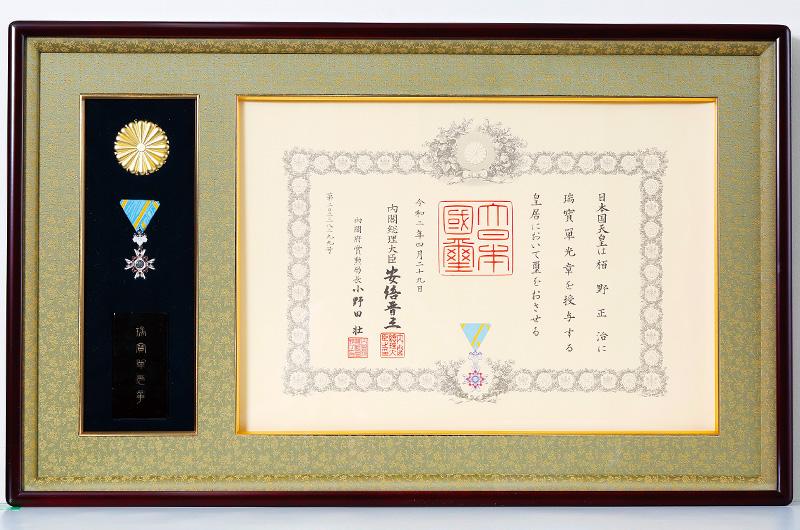 Received the Order of the Sacred Treasure, Silver Rays for my contribution to the proficiency test and other work
I received several commendations for my contribution to the proficiency test, but when I was informed I had received the Order of the Sacred Treasure, Silver Rays at the Spring Conferment of Decorations*, I was surprised rather than pleased. It gave me a feeling of tension and determination. As a proficiency test examiner, I was evaluated as having contributed to the education and development of younger people, and improvement of the technical level in the powder metallurgy industry. However, it was all a result of the guidance I received from many superiors and the support of my colleagues and subordinates. In this sense, I consider that I was granted the award as the representative of all my fellows, including my superiors and subordinates.

Tool manufacture that makes full use of powder metallurgical technology is like the world of the tortoise in the fable "The Tortoise and the Hare." It is impossible to instantly accomplish a goal like a hare. We can succeed as a tool manufacturing technician only by steadily accumulating skills and know-how step by step like a tortoise. Making "consistent and steady" efforts is my style and method as a technician. I will make young people aware of the importance of making efforts in a "consistent and steady" manner. Meanwhile, there is a huge difference in tool manufacturing technology between now and the time I was involved in it for the first time. It is now possible to control many things that used to require manpower by using cutting-edge equipment. It is expected that AI and other technologies will accelerate mechanization and automatization in the future. Therefore, I expect young people to think creatively without being bound by conventional methods. To return the favor I have received from many people involved in the industry, I will communicate the attractiveness and fun of tool manufacture while providing young people and women with opportunities to work actively and supporting them.
* Bestowed upon individuals of merit, in recognition of their national or public services, and in honor of their distinguished accomplishments in various areas of society.
PROFILE
Masaharu Kayano

1984
Joined Okayama Sumiden Seimitsu Ltd.
Involved in a tool development project, which started that year

1991
Company renamed Sumitomo Electric Sintered Alloy, Ltd.

1993
Appointed as an examiner of the Okayama Prefectural Proficiency Test Commission

2004
Received a testimonial from the Governor of Okayama Prefecture (for contribution to the proficiency test)

2006
Received a commendation from the Chairman of Japan Vocational Ability Development Association (for contribution to the proficiency test)

2014
Received a commendation from the Minister of Health, Labour and Welfare (for contribution to the proficiency test)

2015
Chief Engineer, Product Development Department

2016
General Manager, Tool Development Department

2020
Received the Order of the Sacred Treasure, Silver Rays