Sumitomo Electric Group The Professionals ~Takeshi Hachikawa~
Sumitomo Electric Group The Professionals ~Takeshi Hachikawa~
Engineering capability nurtured in the development of hospital information systems, and passion for manufacturing
I developed an interest in computers when I was a junior high school student. As a child, I felt the big potential of computers to open up the future. Thus, I chose information science when I went to university and graduate school. In graduate school, my research theme was computer simulation to improve solar heat power generation efficiency. I hoped to create something that could be commercially implemented and would contribute to society. By taking advantage of what I learned in graduate school, I wanted to do a job to offer new added value through systems rather than selling systems. I chose Sumitomo Electric because its efforts in the information communication field matched my vision and were very attractive.

I was in charge of creating hospital information systems, mainly electronic clinical record systems, for 18 years after I joined Sumitomo Electric. I could acquire various basic skills of manufacturing while I was engaged in the highly reliable system infrastructure, electronic clinical record indication systems and overall system architecture design. I was also engaged in offshore software development in China (outsourcing to companies outside Japan) for five years. This experience helped raise my awareness as an engineer. My mission was to manage a project involving up to 120 engineers as a project leader. The project reminded me of the importance of personal ties. Obviously, it was difficult to develop products through collaboration with people with a different cultural background and values. However, the project provided many opportunities to feel the passion, enthusiasm and deep personality of the respective engineers. I was convinced that software must be created by passion.
A new challenge in the telematics business Development of Yahoo Japan's CarNavi application for smartphones
In 2013, the hospital information system business was reorganized, and I was assigned to the telematics business department. This was the chance of a lifetime because I had been considering taking on challenges in a new field as an engineer. In fact, this transfer was a turning point for my career as an engineer. Telematics, which I assumed as a new mission, is a word coined from telecommunication and informatics. It aims to offer services to mobile objects such as vehicles by using mobile communication such as mobile phones. Specific services include traffic congestion forecasts and provision of information about optimal routes, distribution of map information, secure and safe functions for cars and transport vehicles such as safe and eco-friendly driving support software and improvement of convenience by information distribution. In the future, telematics will play a role in Intelligent Transport Systems. Total solutions related to the road traffic will be offered to improve the infrastructure toward achieving automated driving. In the broad spectrum of operations, I was assigned the task of developing a car navigation application for smartphones.

At that time, Sumitomo Electric's telematics business was stagnant. The company was seeking a new source of profit by taking on challenges in new businesses. Sumitomo Electric entered the telematics market early, and was highly evaluated in terms of its technology such as car navigation, maps and server software (e.g., route search and distribution of traffic information). Based on these results, a development kit was offered for smartphone applications. The strategy was to spread the telematics technologies to new users and ensure competitiveness.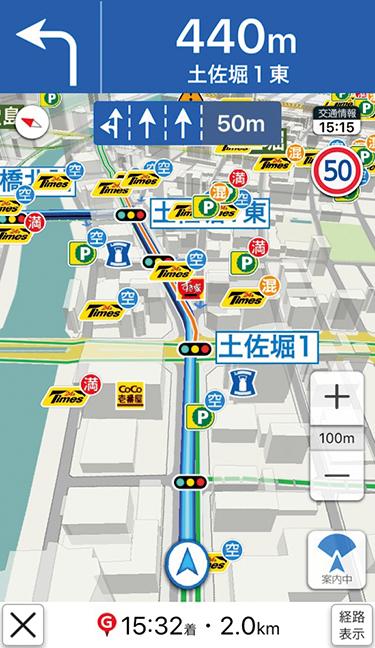 The customer was Yahoo! JAPAN, a portal site operator. I was in charge of team management and negotiations with customers as a project leader. We focused on high-precision positioning, high-speed route calculation and high-frequency map update to differentiate from other car navigation applications. We also endeavored to take actions at an ultra-fast speed from proposals of car navigation software development environments to commercialization of car navigation functions. We frequently visited the customer for direct communication to fully understand their intentions and requests from every aspect, and worked closely with the customer to embody the service. These efforts led to the development of the application, which was eventually released as Yahoo Japan's CarNavi in July 2014. It recorded 14 million downloads in total in August 2018.
Improving personal skills to become attractive persons This is the source of motivation to make progress in manufacturing.
Yahoo Japan's CarNavi has been continuously upgraded to advance the car navigation functionality.

This project won the Glorious Excellent Award (the best award) at the Global Award Ceremony of Sumitomo Electric, which is held every five years, for creating a path toward new business.

I was appointed manager in April 2018 to be responsible for promoting the entire mobile solution business including the logistics systems and mobile big data business. We aim to produce and develop the core business in our operations. Currently, we focus on vehicle mobility, but we hope to create highly convenient solutions for entire human mobility in the near future.

System and software engineers are most pleased when they are told that their products are helpful. To receive as much such feedback as possible, we will not only improve the engineering capability but also create a team of members with high personal skills.

Software is created by people, so it is necessary to enhance personal skills, value personal ties and become attractive persons. This is the core of manufacturing.
PROFILE
Takeshi Hachikawa

1995
Joined Sumitomo Electric

1999–2002
Joined project for introducing a U.S. electronic clinical record system to the Japanese market (in the U.S.)

2004
Sent to Toshiba Sumiden Medical Information Systems Corporation

2013
Started to work at Sumitomo Electric System Solutions Co., Ltd.

2018
Assigned to the current position