Sumitomo Electric Group The Professionals ~Osamu Inoue~
Sumitomo Electric Group The Professionals ~Osamu Inoue~
Bookkeeping job taught me basic concepts of business management
I joined Sumitomo Electric in the early days of fiber optics because of anticipated further growth in the communications business.

I was assigned to the Accounting Department. My first task was cost accounting for brake products at the Itami Works. Looking at brake drawings and checking each part, I entered its cost in a part conversion chart. At that time, the Accounting Department office had only five large computers. As such, I used an abacus for the calculations. It was then that I began my career as an accountant.

As I learned the basics of work at the Accounting Section of Osaka Works, I believe I gained valuable experience during the 12 years I was there. I took charge of bookkeeping for power transmission cable installation projects. The Company was then busy implementing construction projects overseas, such as a transmission cable installation in Iran and an underground line installation in Saudi Arabia. Our bookkeepers in charge of the construction projects received bankbooks and cashbooks from the overseas project site staff and, in Japan, recorded the information as accounting items. My task was to inform the construction staff of the then current expenditures vis-à-vis the overall construction budget. Through that work, I was able to learn what operations were carried out on site and what kinds of expenses were incurred.

Meanwhile, in our tax inspections, tax inspectors were most interested in construction-related expenses. Construction site expenditures included entertainment expenses. In addition, we needed to deal with remaining materials once the construction was completed. Our bookkeeping was appropriate and of no concern. However, the tax inspectors asked us detailed questions. I gathered the required information and provided them with explanations to their satisfaction.

At the Osaka Works, I took charge of bookkeeping in almost every department related to product sales and R&D, in addition to construction bookkeeping.

All these years of bookkeeping experience helped me acquire the basic skills needed in promoting projects. I believe that, through careful checking of figures, I have honed my ability to gain insight into the true nature of each issue.
Resuscitate an unprofitable overseas subsidiary
In 1990, I reached a turning point.

I was transferred as a bookkeeping manager to our wiring harness manufacturing subsidiary in the United States, because the company began to incur excessive debt. Although soon after my joining Sumitomo Electric I had worked in Nigeria as a bookkeeper, this was my first time to work on loan as an executive.

My subsequent experience abroad shaped me as a corporate manager.

The first challenge I faced in the U.S. was, to my surprise, the task of payroll calculation and the payment of withholding income tax to the government. The challenge involved making weekly payroll calculations and writing checks for some 10,000 employees due to the weekly salary system prevalent in the U.S. The workload was quadruple that I had performed in Japan, where monthly salary systems were common. Without my experience in Osaka, I wouldn't have been able to cope with the challenge.

The revitalization process was a succession of difficult challenges.

To solidify the company's financial base, I requested Sumitomo Electric to implement a capital increase, while implementing price increases to rebuild the company. To cut the manufacturing cost, I accomplished a buyout of a low-labor-cost Mexican company and carried out factory relocation. That was my first M&A experience.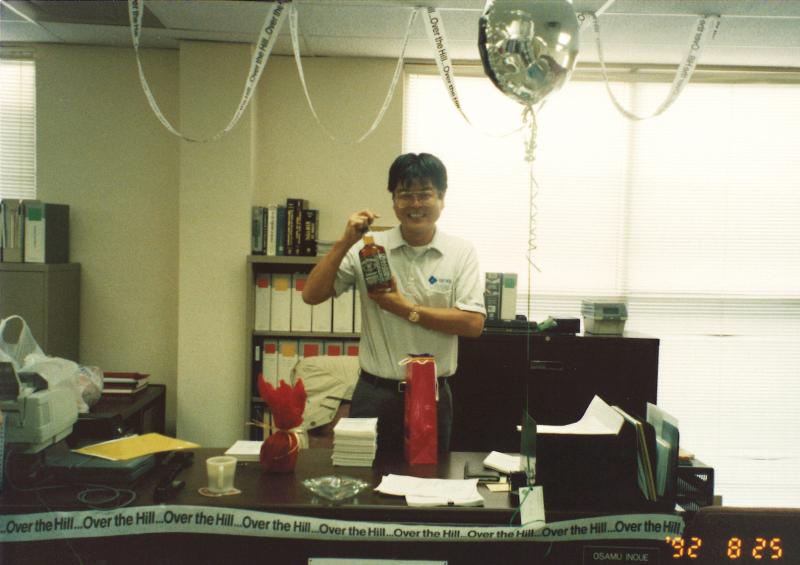 After the company's revitalization in the U.S., which took six and a half years, I returned to Osaka. After some time when I had adjusted to my life in Osaka, I was notified that I would work in Indonesia. The purpose of this mission was to resuscitate a wire manufacturing company, a Sumitomo Electric affiliate, which was suffering from poor performance due to the Asian Financial Crisis.

In 1998, I was assigned to the new post two weeks after the 1998 Tragedy. Two years later, however, the Indonesian domestic market was still stagnant.

As a solution to that situation, I developed a system to export and sell products manufactured in Indonesia to customers in Japan. The system was quite successful. The company's business began to recover. I also worked as the President of a locally incorporated subsidiary of the wire manufacturing company and learned about difficulties associated with sales and cash flow.

In 2001, I returned to Japan. I was later transferred to Sumitomo Wiring Systems and subsequently promoted to an officer. Soon after that, I was recalled to Sumitomo Electric.

That was in 2008, the year of the global financial crisis. Sumitomo Electric's subsidiary in Germany had entered insolvency. I have the impression that I was assigned to an overseas post just at the time when the world economy was undergoing drastic change. In Germany, I restructured the senior management. Since the top executives showed their commitment to revitalizing the company, the subordinates became motivated.

This is the philosophy I constantly adhered to: If a leader gives up, the subordinates always sense it. If the leader says "It can't be helped," they give up on further attempts. That's why I never say timid words.

Thus, in a unified effort, all the employees paved the way for revitalization.

Each task of resuscitating an overseas subsidiary was tough. But I now think they gave me valuable experience. As soon as the company returned to the black, the employees looked different. I strongly felt the importance of making a business truly profitable.

I would like to help the Sumitomo Electric Group grow into an assemblage of companies with happy workplaces that are a joy to work for. This notion probably stems from my experience at the Group's overseas subsidiaries.
Proper business management to ensure contribution to society and profitability
I believe that there are two essential things for a company to pursue.

One is to continually provide its customers with quality products; in other words, to contribute to society through its products. The other is to be constantly profitable. To achieve these goals, in my opinion, proper business management must be in place. I use this expression, "Conduct meticulous checks and make a bold decision."

I have acquired the habit of looking up details through my years of cost calculation and other experience. In addition to cost data, acquire as much information as possible, including customer and equipment data, to carry out an assessment and make a decision immediately whenever the need arises. This is essential for business management.

For instance, consider what items you should focus on for development and evolution for the sake of our customers. It may sometimes be necessary to slow down the development process. In such a situation, it is very difficult to make an optimal decision. Therefore, you need to examine the situation from multiple perspectives.

Since its founding 120 years ago, the Sumitomo Electric Group has achieved solid growth. The Group has steadily striven to manufacture items useful for society. It is not necessary to imitate someone's way or try to achieve a big hit. Rather, it is important to improve the present situation little by little to provide products with increased potential to contribute to society.

Working steadily for substantial achievements must thus be essential to the way of a business that makes all of its customers, shareholders, local communities, and employees happy.
PROFILE
Osamu Inoue

1975
Joined Sumitomo Electric Industries, Ltd.

1990
Worked at Sumitomo Electric Wiring Systems, Inc. (U.S.).

2001
General Manager, Automotive Division, Sumitomo Electric Wiring Systems, Inc.

2006
Director, Managing Executive Officer, Sumitomo Wiring Systems.

2007
Director, Senior Managing Executive Officer, Sumitomo Wiring Systems.

2008
Managing Director, Sumitomo Electric Industries, Ltd.

2009
Director, Sumitomo Electric.
President, Sumitomo Electric Bordnetze GmbH (Germany)

2012
President and Chief Executive Officer, Representative Director, Sumitomo Wiring Systems.

2017
Appointed as President & COO, Sumitomo Electric.