Sumitomo Electric Group The Professionals ~Yoshiyuki Suetsugu~
Sumitomo Electric Group The Professionals ~Yoshiyuki Suetsugu~
Taking on the challenge of technological innovation to support optical networks
One of the products indispensable for the construction and maintenance of optical fiber networks that support an advanced information society is the fusion splicer, which is used for connecting optical fibers. The Sumitomo Electric Group, a pioneer in optical fibers and optical cables, has been involved in the development of fusion splicers since the 1970s, and the Lightwave Network Products Div. of the Infocommunications Business Unit, under my supervision, is currently responsible for this area.

In constructing an optical fiber network, it is essential to connect optical fibers to each other. Long-haul, high-capacity trunk line optical fiber networks, which require particularly high reliability, need optical fiber fusion splicing technology for splicing together the end faces of optical fibers, which are made of quartz glass, by arc discharge at approximately 1,800°C. Optical connection loss occurs if the cores through which light passes are aligned with a high accuracy of 1 micrometer (0.001 mm) or less. We have been working on technological innovations to reduce connection loss to increase construction work efficiency.
The theme of development is to solve customers' serious problems
However, in the fusion splicer market, competition continued to focus on speed and size, i.e. how many seconds it takes to connect optical fibers and how small the device can be made, and manufacturers faced a stalemate.

When I took over as General Manager of the Lightwave Network Products Div., I initiated a dialogue with engineers to "develop new products that would surprise the world." At that time, I realized something. It was that no "dreams" were in development.

"Let's develop a dream fusion splicer. I want you to think about what kind of dream you want to achieve."
I made such a request to team members, and the theme that they came up with was a "fusion splicer that never fails." When splicing optical fibers together, their ends are cut with a cutter, and fusion splicing is impossible unless the cut sections are flat. It was considered inevitable that the fusion splicing work would have to be redone about once every 10 times due to defective cross sections. Fusion splicing work outdoors, which is affected by weather conditions, is prone to defective cross sections and requires skilled workmanship. Redoing work on utility poles in cold weather is therefore extremely difficult.

We want to solve our customers' serious problems by our "fusion splicer that never fails," which overturns conventional wisdom. I gave the green light for the dream that the development team had outlined.

Connecting global optical fiber networks with a dream fusion splicer
The world's first direct core monitoring optical fiber fusion splicer, TYPE-72C+, incorporating AI and DX technologies was completed. Its sales began in October 2020.

We incorporated our proprietary AI technology NanoTune™ into the fusion splicer to have it determine if there are any defects, such as chipping on the optical fiber section, and perform fine-tuning of splicing conditions at the nanometer level to prevent failures. Splicing skills are no longer necessary.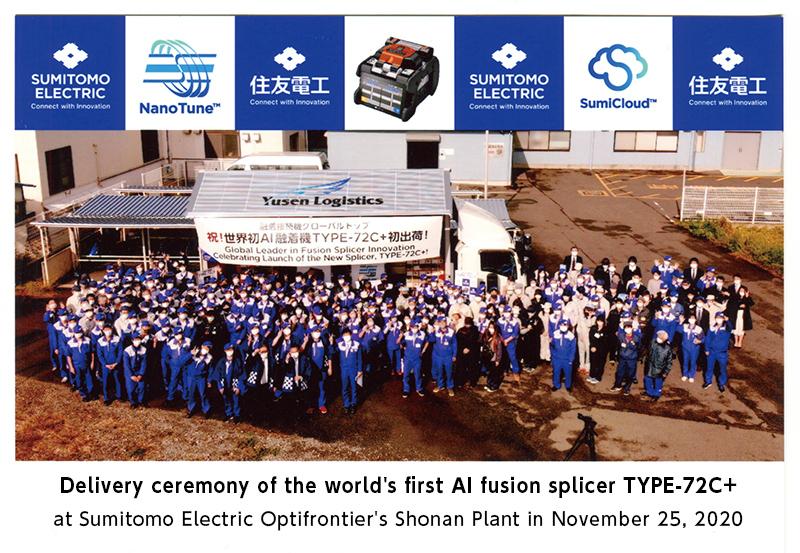 Furthermore, we evolved the SumiCloud™ DX technology, which was incorporated in the previous model, TYPE-71C+. Improving the preventive maintenance function to notify users of the timing to replace consumables through their smartphones has prevented unexpected problems, thereby supporting the best fusion quality.

To my delight, TYPE-72C+ has been very well received by customers since its launch. The development team has become more energetic, and young engineers are actively participating to take on to the next dream, not to mention the further evolution of the product. I believe that our dream fusion splicer will be able to help construct optical fiber networks that will expand all over the world in the future.
We will never give up. Learning from the experience in the U.S.
I always tell young people, "Have a dream. If you don't give up, you will make it happen." A dream that has the element of surprise and is as big as possible is better. I want them to try what they think is interesting with a strong will and enthusiasm, rather than starting off by calculating the cost. That is what I have actually experienced.

From 1989, my fifth year at the Company, I was stationed for three years at an optical cable manufacturing subsidiary in the U.S. I was assigned as an engineer to locally develop the first optical cable at a critical time when the Sumitomo Electric Group was aiming to establish a business connection with an affiliated company of the Bell Telephone Company for the first time.

Since not all of the development facilities were available locally, I intended to manufacture some of the components in Japan using Japanese facilities and then bring them back to the U.S. to complete the prototype.

When I was asking a local manufacturing engineer to do this and that at the time of building a prototype in the U.S., the engineer, who worked with a sense of pride, became angry and we exchanged harsh words with each other. However, it was an important prototype that would lead to new business. As a development engineer, I was not able to make any concessions. In the end, we completed the prototype that we were aiming for together with the factory operators who were watching us. That product enabled us to establish a business connection with the company for the first time. This experience taught me the importance of having a strong will and not giving up.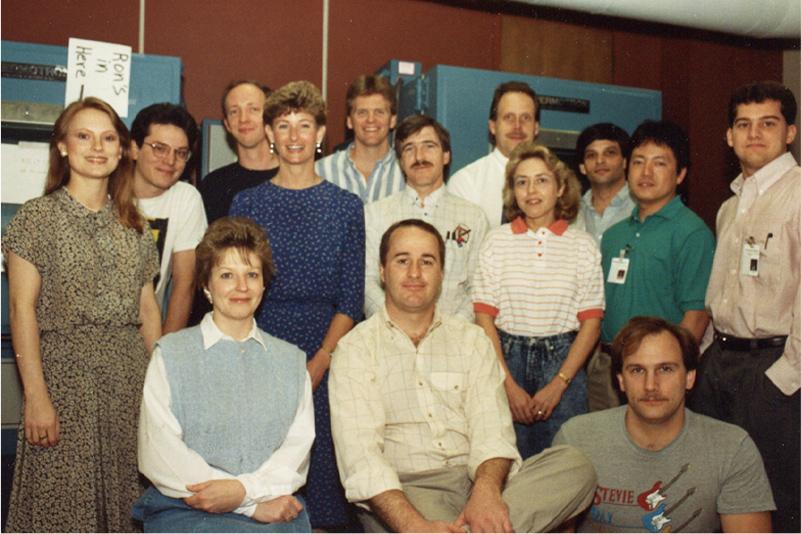 Sharing goals is a top priority. Learning from actual experience in China
It was during my assignment to China that I had the experience of holding up a dream with my colleagues and accomplishing it with passion. I was stationed in a joint venture with a local company in China as President for six years starting in 2010. I was at a loss at first because my way of thinking and work methods were completely different from those of the Chinese Vice-President. We Japanese usually organize things and start with things that are most effective, while the Chinese move things along at an amazing speed. Since there was a language barrier, it was difficult for me to communicate with workers in the field. I studied Chinese hard before and after work.

When it became clear that our common goal was to acquire the top market share in China for locally installed Fiber To The Home (FTTH) connectors, I came to believe that it was OK that there were different methods and processes as long as the common goal is shared by everybody. I came to believe that that was what it meant to survive globally. After that, we focused on creating an organization that leverages diversity and respects the local culture necessary for business. As I built a relationship of mutual trust with the Vice President as colleagues pursuing the same dream, he sometimes stood up to protect me when I was under increasing pressure. I will never forget what members in the field said to me when we achieved the top market share in China. "Mr. Suetsugu, let's work together forever."

Creating a team in which each and every member can take pride
My present dream is to earn the number one market share of the global fusion splicer market and become a leading company in the optical equipment business. Everyone in the business division is confident and enjoys working on this project, and we are getting closer to making it a reality.

My biggest dream is to create a safe and vibrant team where each individual can be proud to be a part of. I believe that only such a team can create higher value-added products and services that lead to solutions to customers' problems and social issues.
PROFILE
Yoshiyuki Suetsugu

1984
Joined Sumitomo Electric Industries, Ltd.
Yokohama Research Department

1989
Product Design Engineer, Sumitomo Electric Fiber Optics Corp. (North Carolina)

2000
Manager, Optical Transmission Department, Yokohama Research Laboratory

2003
Manager, Optical Component Technology Group, Photonics Products Division

2010
General Manager, Nanjing Optical Network Co. Ltd.
南京普住光網絡有限公司 総経理

2018
General Manager, Lightwave Network Products Division

2020
Executive Officer
Deputy General Manager, Infocommunications Business Unit
General Manager, Lightwave Network Products Division