Prestressing Steel Supports Infrastructure around the World
Prestressing Steel Supports Infrastructure around the World

Develop Infrastructure for the Realization of a Sustainable Society
Construction of the Shin-Meishin Expressway is in progress (Youbaizan Viaduct)
The simultaneous operations of 32 form travelers indicate that there is no time to lose in the construction.
Supporting the construction of the Shin-Meishin Expressway and the reconstruction of the Tohoku Region, as well as overseas projects
Road networks are a foundation for economic activities and social life. Japan rapidly developed expressways during the high economic growth period.

Now, while it is necessary to repair the roads that have degraded with age, demand for the development of new roads as sustainable infrastructure is also increasing.

Expressways in Japan inevitably need bridges as they pass through mountainous areas and over rivers, and the construction of bridges currently involves a wide range of social issues. In addition to safety, there are also plenty of issues that were not considered in the past infrastructure development, such as productivity improvement through energy and labor saving and the shortening of construction periods, as well as the extension of service life and the reduction of environmental impact.

Sumitomo Electric is proactively addressing these issues in the construction of bridges.

It is the supply of high-performance prestressing steel and related products featuring high strength and durability.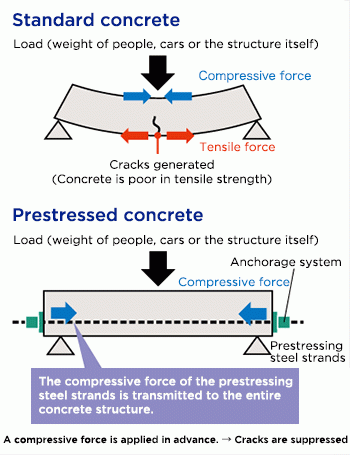 Unknown power of prestressing steel which are indispensable for the construction of long concrete bridges
The prestressing steel is high-strength steel strand that features high tensile strength and excellent toughness (tenacity of the material). Standard concrete is resistant to compressive forces but weak in tensile strength. A very effective solution to this problem is prestressing steel strand, which has five to seven times higher strength than reinforcing steel. Prestressed concrete is currently used in the construction of most long concrete bridges. In prestressed concrete structures, a tensile force is applied to prestressing steel strand with a hydraulic jack and the compressive force is transmitted to the concrete to inhibit cracks and maintain the strength and soundness of the structures.
NEXT
Prestressing Steel Technology Supported the Shin-Meishin Project
Mukogawa Bridge, Aigawa Bridge and Youbaizan Viaduct
(2)