1993 First traffic control system outside Japan built in Thailand
1993 First traffic control system outside Japan built in Thailand

1993 First traffic control system outside Japan built in Thailand
Contribution to improving the traffic network in Thailand, a fast-growing emerging country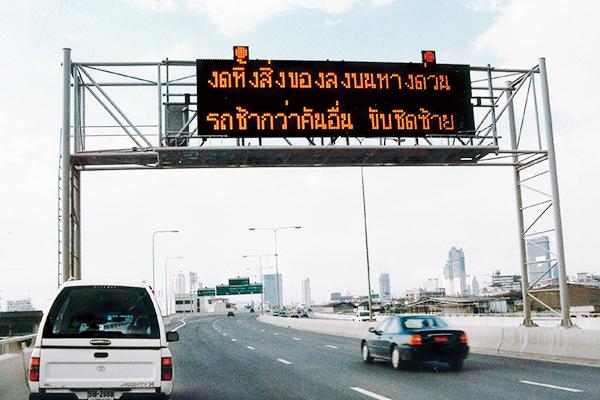 In June 1993, Sumitomo Electric completed the traffic control system for the Second Stage Expressway in Bangkok, Thailand.

This expressway was planned to eliminate chronic traffic congestion. The elevated expressway spanning 20 km connects Bangkok with the international airport in the suburbs. Sumitomo Electric was awarded a contract for a traffic control system and built a multifunctional display system for providing road information, a road condition monitoring system using CCTV cameras, an emergency communication network based on an emergency call system, and a radio communication system for highway patrols.

It was the first time for Sumitomo Electric to introduce a full-scale traffic control system outside Japan. This was an unprecedented project for the company to connect the equipment for a traffic control system manufactured by Sumitomo Electric with equipment procured outside Japan (such as emergency call equipment), and locally develop part of the software. It was difficult to manage the delivery time of the equipment procured outside Japan. Nevertheless, the construction was successfully completed in 23 months, the construction period stipulated in the contract. In 1995 and 1998, the system was expanded to cover an extension route of the expressway. Construction was completed ahead of schedule in response to a request to complete it before the 13th Asian Games (Bangkok 1998). Sumitomo Electric contributed to improving the traffic network in Thailand where construction of the expressway continues.