1982 Success in Synthesizing the World's Largest Single Crystal Diamond
1982 Success in Synthesizing the World's Largest Single Crystal Diamond

1982 Success in Synthesizing the World's Largest Single Crystal Diamond
An Artificial Diamond Certified as the World's Largest by the Guinness Book of World Records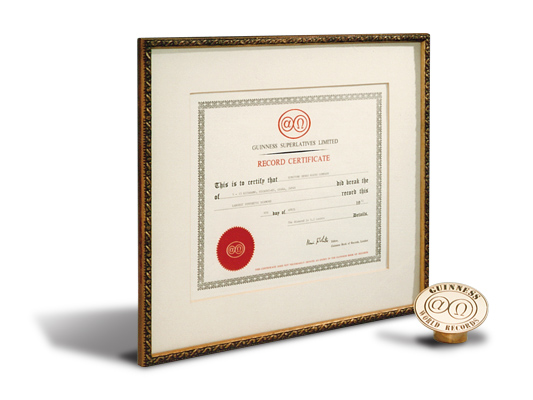 Certificate for entry in the 1984 Guinness Book of World Records
In the process of manufacturing electric wires, the main products of Sumitomo Electric Industries, a tool called a "wire drawing die" was used to size products according to the specified diameter. Around 1970, Sumitomo Electric came up with using diamond as the material of wire drawing dies in place of cemented carbide. This was the beginning of the history of Sumitomo Electric's synthetic diamond development.
At that time, an American company had succeeded in synthesizing artificial diamonds with a diameter of about 4 to 5 mm (0.75 carat or less), and it was thought impossible to synthesize diamonds without using any patented technology. Sumitomo Electric conducted research to develop new synthesis technologies, and in 1982, it succeeded in synthesizing a single crystal diamond with a diameter of about 6 mm (1.2 carats), which was one of the largest at that time and listed in the 1984 Guinness Book of World Records as "the world's largest synthetic diamond." Also, in 1989, Sumitomo Electric realized the mass production of large single crystal synthetic diamonds with a diameter of about 1 cm. The crystals at that time had a yellow color due to the presence of impurities, however, thanks to the passion and tenacious efforts of researchers who desired to develop larger, more colorless and transparent high-purity crystals to expand the scope of application and contribute to the development of industrial technology, high-purity, colorless, transparent, and high-quality large crystals with a diameter of 11 to 12 mm (about 10 carats) are now available.
Today, single-crystal synthetic diamonds are used not only for conventional tool applications, but also for non-tool applications, such as optical components, window materials, and spectroscopic devices.