1974 Commencement of Manufacture of Optical Fiber Cables
1974 Commencement of Manufacture of Optical Fiber Cables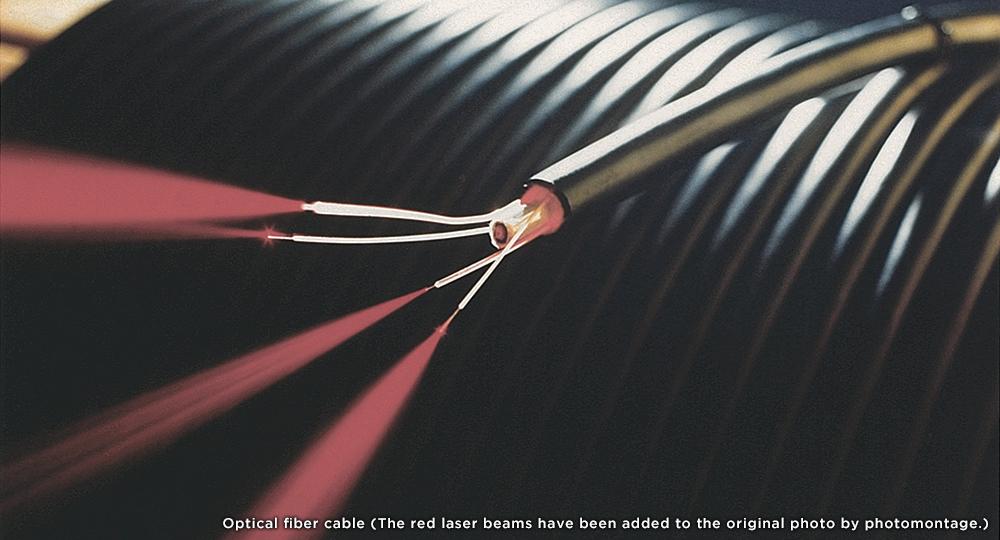 1974 Commencement of Manufacture of Optical Fiber Cables
Decision to Launch a New Business
An optical fiber consists of glass fiber, which is as thin as a human hair. It is a high-performance medium capable of transmitting optical signals to a destination dozens of kilometers away by keeping the signals in its cores. In response to a report made by employees who attended the first international conference on trunk transmission lines held in the U.K. in 1970,*1 Sumitomo Electric increased the number of its researchers and embarked on the development of optical fiber. In 1973, Director Komatsu and Deputy Director Nakahara of the Communication Division at that time attended the Executive Council and stated, "Optical fiber will become a crucial technology in the communication field in the future." They explained to management the need to launch full-scale efforts to develop optical fiber and establish a business. This was an important business decision that determined the future of the Company. Even though the advent of an optical network society, in which we live today, was unimaginable, the management at that time, including President Isamu Sakamoto, was convinced that practical applications would be attained in the not-so-distant future due to the rapid progress in the competition to develop the new technology in foreign markets, and that optical fiber would become the core technology of the upcoming information society. It was decided to invest in the new business. In 1974, Sumitomo Electric became the first company in Japan to establish a pilot plant for manufacturing optical fiber, at the Yokohama Works. It started to develop and manufacture optical fiber cables on a full scale. In the same year, the Company filed a basic patent application regarding the VAD method,*2 an optical fiber manufacturing method that later became the most widespread method used throughout the world.

The first optical fiber cables exported by Sumitomo Electric in 1978 were used to connect telephone offices at a theme park in Florida (U.S.). In the 1990s, demand for optical fiber cables increased dramatically. Sumitomo Electric's products contributed to the widespread use of the Internet as well as larger-capacity and higher-speed communication. Today, optical fiber cables underpin our society where cloud services have become the norm.
*1 Conference on Trunk Telecommunications by Guided Waves
*2 VAD method: Vapor-phase axial deposition method. This is a method of manufacturing high-quality optical fiber suitable for mass production.