1963 First Overseas Conductor Project (Venezuela)
1963 First Overseas Conductor Project (Venezuela)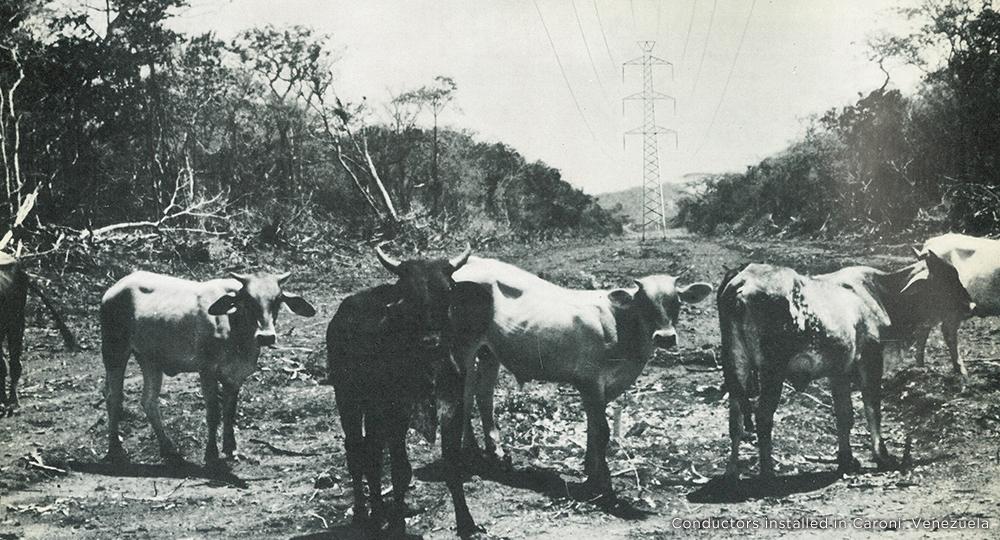 1963 First Overseas Conductor Project (Venezuela)
Construction Laying the Foundation of Our Overseas Business
In 1963, we won an overseas conductor project for the first time – the Caroni conductor project in Venezuela, South America. Designed to cover 650km from a power station to the capital Caracas with two lines of 230kV conductors, the project consisted of three sections. We received an order for the second section (the line was 132km, requiring 345pylons and total construction cost was 800million yen). We were entrusted with all the work for the second section, including measuring line lengths, providing materials, such as conductors, pylons and insulator units, conducting foundation and assembly work for the pylons, and erecting bridges. The management and supervision of the entire project and the communication with staff members based in Japan were all handled by only two employees: one from Sumitomo Electric and the other from Taiyo Densetsu Co., Ltd. (presently Sumitomo Densetsu Co., Ltd.). Spanning a jungle and a grassland stretching as far as the eye could see, the second section was successfully completed two years later, ahead of the other parts.

It was around that time that we established the first-ever pylon destructive test facility in Japan on the premises of the Laboratory. By doing so, we subsequently accelerated our research on and rationalization of pylon design, leading us to enhance our international competitiveness.

In 1967, we also founded the a construction Method Laboratory to provide special training programs for engineers specializing in power facility construction and overseas conductor construction. These experiences greatly contributed to our subsequent success in winning orders for large overseas projects, such as those in Peru in 1978, in Columbia in 1981 and 1984, and Chile in 1983 and 1986. Even though each of these projects was handled by a single employee, all of them were completed successfully before their deadlines, resulting in a high evaluation of our engineering and material management capabilities.