Bringing Power to the World While Being Safer for the Environment
Sumitomo Electric has been an innovator in submarine cable technology for generations. This legacy stretches back to 1922, when Sumitomo Electric laid a 21-kilometer electric cable under water—a world record at the time, more than three times longer than the previous longest submarine cable. The company became the first to manufacture cables over 20 kilometers in length and it has remained a global leader in underwater power transmission, providing more than 6,000 kilometers of submarine cables.

The evolution of Sumitomo Electric's cable technology has resulted in continuous improvements in performance and durability. Now, it also accounts for the duty we all share to protect and conserve the global environment.
Undersea cables are essential for the adoption of renewable energy
The need to produce and distribute renewable energy grows more urgent every day as we face climate change. In many instances, the renewable generation site is far from the area it supplies, making transmission cables crucial infrastructure to connect the two. For example, Europe is a leader in wind power, including offshore generation, and its growth requires reliable submarine cables to bring electricity to customers.

These submarine cables are often laid in harsh environments, so it is important that they are strong but also safe for the surrounding habitat in case the cable becomes damaged, such as by a ship's anchor.

In order to improve environmental performance, in 1970 Sumitomo Electric began developing cross-linked polyethylene (XLPE) cables to replace more conventional oil-filled (OF) cables. The XLPE cables use a polyethylene insulation whereas OF cables are insulated with oil-impregnated paper, which can potentially leak into the water if the cable is damaged. However, long-distance power transmission works best with direct current (DC), and the XLPE cables did not perform as well as hoped for DC transmission. As a result, direct current XLPE cables became a long-cherished dream of the industry.
Sumitomo Electric is making the impossible a reality
Sumitomo Electric never gave up on the potential of XLPE technology and invested in its continued development in the hopes that it could eliminate the risk of oil leaks. Along the way, its experts learned that the key was to choose the right material for the membrane.

Our researchers considered both pure polyethylene (which was believed to be the frontrunner) and filled polyethylene (which is a material of both extremes). They learned that pure polyethylene does not perform well in thick-walled cables, but, through trial and error, they were able to develop a filled polyethylene thick-walled insulation.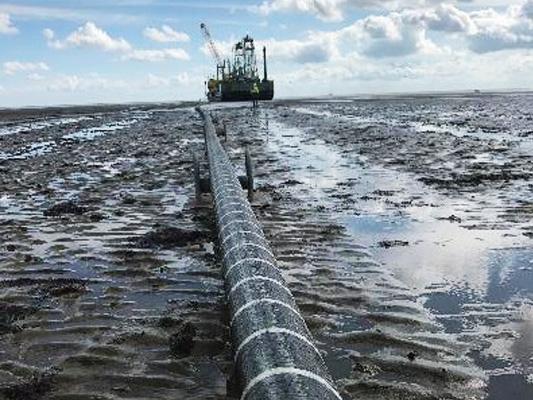 Simply being able to perform as a material under research conditions does not necessarily translate into success when a cable is in the actual installation environment. But one reason for Sumitomo Electric's strong track record is that during testing we apply a load on the product that exceeds the installation environment to guarantee high-quality performance and durability. At our high-voltage testing facility, we test durability not only by applying higher-than expected voltages in units of hundreds and thousands of volts, but we also conduct verification at higher-than-standard voltages.
While these research efforts spanned 40 years, they ultimately paid off. In 2012, Sumitomo Electric laid the world's first DC XLPE submarine cable.
Our industry-leading cables connect a more sustainable society
Sumitomo Electric can provide cable manufacturing as well as total electrical and installation technologies. Our comprehensive capabilities were recognized in September 2021 when we were awarded a contract, in collaboration with Siemens AG of Germany, to construct the Greenlink transmission system that will connect the UK and Ireland. This effort includes the design, procurement, and construction of a ±320 kilovolt direct current transmission system. Project members are already moving forward toward our goal of completing the system in 2024.

The market for submarine cables will grow alongside the renewable energy industry. Sumitomo Electric is prepared to take on this challenge, evolving and innovating as it continues to balance our responsibility to care for the natural world with meeting the increasing energy needs of society.