A Small "Town" inside a Factory that is Creating the Mobility Society of the Future
A Small "Town" Inside a Factory That is Creating the Mobility Society of the Future
A once-in-a-century revolution! Which direction should the automotive industry take?
The automotive industry is now undergoing major changes. Innovations in information and communications technologies due to the spread of the Internet of Things (IoT) and digital transformation (DX), the popularization of electric vehicles as a means to achieve carbon neutrality, and the emergence of new forms of mobility services are prominent in the industry. These trends are forcing car manufacturers, their suppliers, and related service industries to make major choices about how to navigate their future.

The keyword CASE is often cited as the future direction of the automotive industry. CASE stands for connected, autonomous, shared/service, and electric. As various related companies are currently exploring the ways in which CASE could lead to create a new mobility society, the possibilities for the future are truly endless.

In the midst of these major changes, Sumitomo Electric is planning to design a new mobility society that includes not only automobile bodies but also roads and traffic control systems. The company has created a small virtual "town" called a test bed inside one of its plants to explore the future of mobility.
The evolution of automobiles and the environment surrounding them
Sensors are installed throughout this town to provide real-time information on a wide range of traffic conditions, such as the status of moving vehicles, pedestrians, and traffic signals. By analyzing the detected traffic situation and communicating with moving vehicles, drivers can be warned of danger in advance, even at intersections with poor visibility. As a result, this will support safe driving and contribute to the reduction of traffic accidents.

In addition, by allowing drivers to know in advance the traffic conditions (traffic congestion, traffic lights, etc.) several dozen meters ahead, it can help them avoid unnecessary acceleration and braking, and thus contribute to reducing CO2 emissions through more efficient driving. In this way, a safe and environment-friendly mobility society can be achieved through real-time understanding and analysis of traffic conditions with sensing technology as a key technology.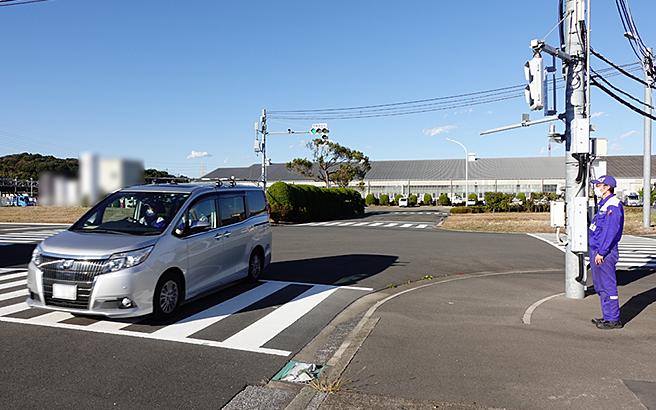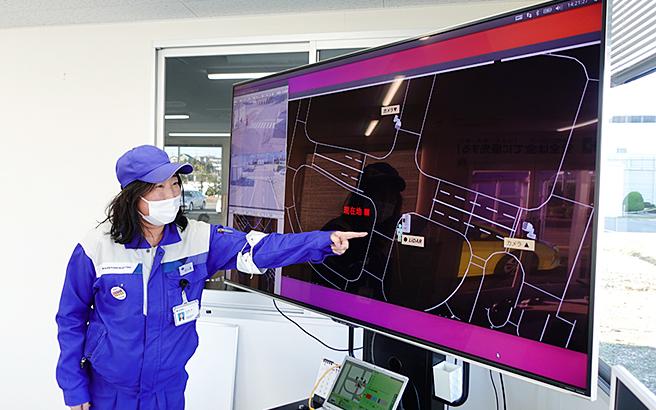 Sensing technology is required not only on the infrastructure side, but also on the automobile side. The addition of sensing technology to vehicles can enable the early detection of sudden obstacles and people. Also, no matter how much progress is made in sensing and communications on the infrastructure side, an automobile must be able to receive large amounts of data in a timely manner in order to be able to control itself. That is, the automobile must also evolve to support high-speed communications. To facilitate this evolution, as the world's leading company of automotive wiring harnesses, Sumitomo Electric has been active in the research and development of high-speed communication harnesses for automobiles.
From a manufacturer specializing in automotive products to a value-creating company for the mobility society
Sumitomo Electric has been engaged in the development and manufacture of wire harnesses for automotive use, leveraging the technological capabilities cultivated in its main business of electric wire manufacturing. The company also has a proven track record in the field of traffic control infrastructure, such as traffic control systems. These traffic signal control systems provide traffic congestion information based on traffic volume forecasts. The systems have been introduced in many countries around the world.

In this way, one of Sumitomo Electric's strengths is its ability to take on the challenge of creating new value from both sides, combining its know-how as an automotive parts manufacturer with its achievements in the field of transportation infrastructure and systems. In the test bed, these strengths are honed on a daily basis.

Ever since the test bed built in 2016, new technologies and services have been demonstrated daily by taking advantage of these strengths, and the test bed continues to promote a future mobility society centered on CASE.

Sumitomo Electric is aiming to expand its vision from the "component perspective" to the "vehicle perspective" and then to the "society perspective," and to take on the challenge of creating new value proposals in the 2030s, based on this revolutionary era of automobiles and the need to respond to CASE.