Sumitomo Electric Launches the SEVD-V3E DC Charger/Discharger Connector Cable Assembly for EVs
Sumitomo Electric Launches the SEVD-V3E DC Charger/Discharger Connector Cable Assembly for EVs
08 February 2021
Sumitomo Electric Launches the SEVD-V3E DC Charger/Discharger Connector Cable Assembly for EVs
Sumitomo Electric Industries, Ltd. is pleased to announce that it has launched a new CHAdeMO-compatible*1 DC Quick-Charger/Discharger Connector Cable Assembly for electric vehicles (EVs), the SEVD-V3E. The new assembly maintains the high level of safety, durability, compactness and light weight of the previous model, but features a completely new design with a novel mechanism that allows the connector to be inserted to and removed from an EV in a single action.


DC charging/discharging transmits a considerably higher level of electric energy than that generated by general home appliances; thus, the equipment used for this purpose requires a higher level of safety. Sumitomo Electric's compact, lightweight and easy-to-operate DC Quick-Charger/Discharger Connector Cable Assembly for EVs, the SEVD-V3E, complies with the international safety standard IEC62196-3 and satisfies the highly safe CHAdeMO specifications. The new model has adopted a mechanism that enables easy connection to an EV with a single action; you just plug it into a vehicle-side inlet.

The new design and color better match general household articles than the previous model.


Features of the SEVD-V3E DC Quick Charger/Discharger Connector Cable Assembly for EVs

■ Excellent operability and usability
  You just plug it into a vehicle-side inlet. SEVD-V3E is compact and lightweight; you can operate it with one hand.

■ User-friendly design   
  The new color and compact design make it perfectly suitable for use at home.

■ Highly durable and flexible cable   
  The strong rubber-based jacket withstands repeated bending, twisting, tensioning, and drawing.

■ Safety design   
  The safety-conscious design for critical points such as joints between electric wires and terminals and cable grippers, in addition to abnormality detection by microswitches, prevent accidents.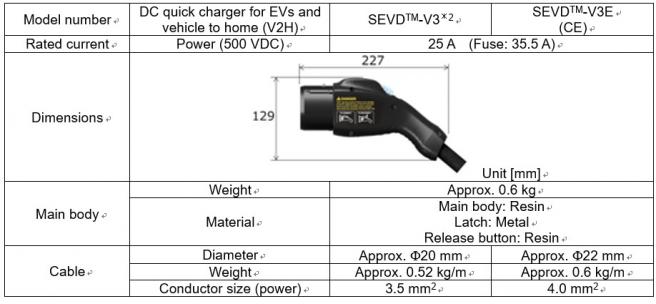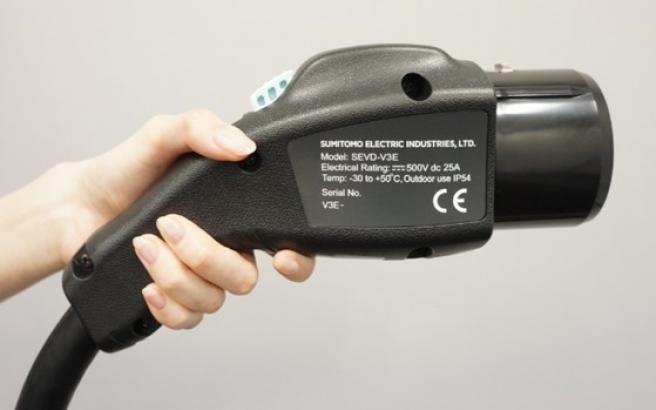 Today, the world is working towards realization of a clean energy society. The need for EVs that do not emit carbon dioxide is expected to expand in the future. For many years, Sumitomo Electric has been working to develop connector cable assemblies for EVs. The Company will continue striving to develop connector cable that are safe, secure and easy to use, and contribute to the realization of environmentally friendly.


*1 CHAdeMO is a trademark of the CHAdeMO Association.

*2   SEVD-V3 (Japanese specifications) is scheduled to be released in February 2021.