Sumitomo Electric Receives "Cost with Quality Award" from GE HealthCare
Sumitomo Electric Receives "Cost with Quality Award" from GE HealthCare
26 July 2023
Sumitomo Electric Receives "Cost with Quality Award" from GE HealthCare
Sumitomo Electric Industries, Ltd. received the "Cost with Quality Award" at the 2023 GE HealthCare Global Supplier Summit* held in Milwaukee, USA, on June 6, 2023.

This award recognizes suppliers who have made a significant contribution to the development and manufacturing activities of GE HealthCare Technologies Inc. Sumitomo Electric has been honored with this award for its stable supply of ultrasound diagnostic device harnesses over the years, as well as its efforts to ensure high quality and cost effectiveness. This is the second time Sumitomo Electric has been honored by GE HealthCare after being the winner of the "Innovation Award" in 2013.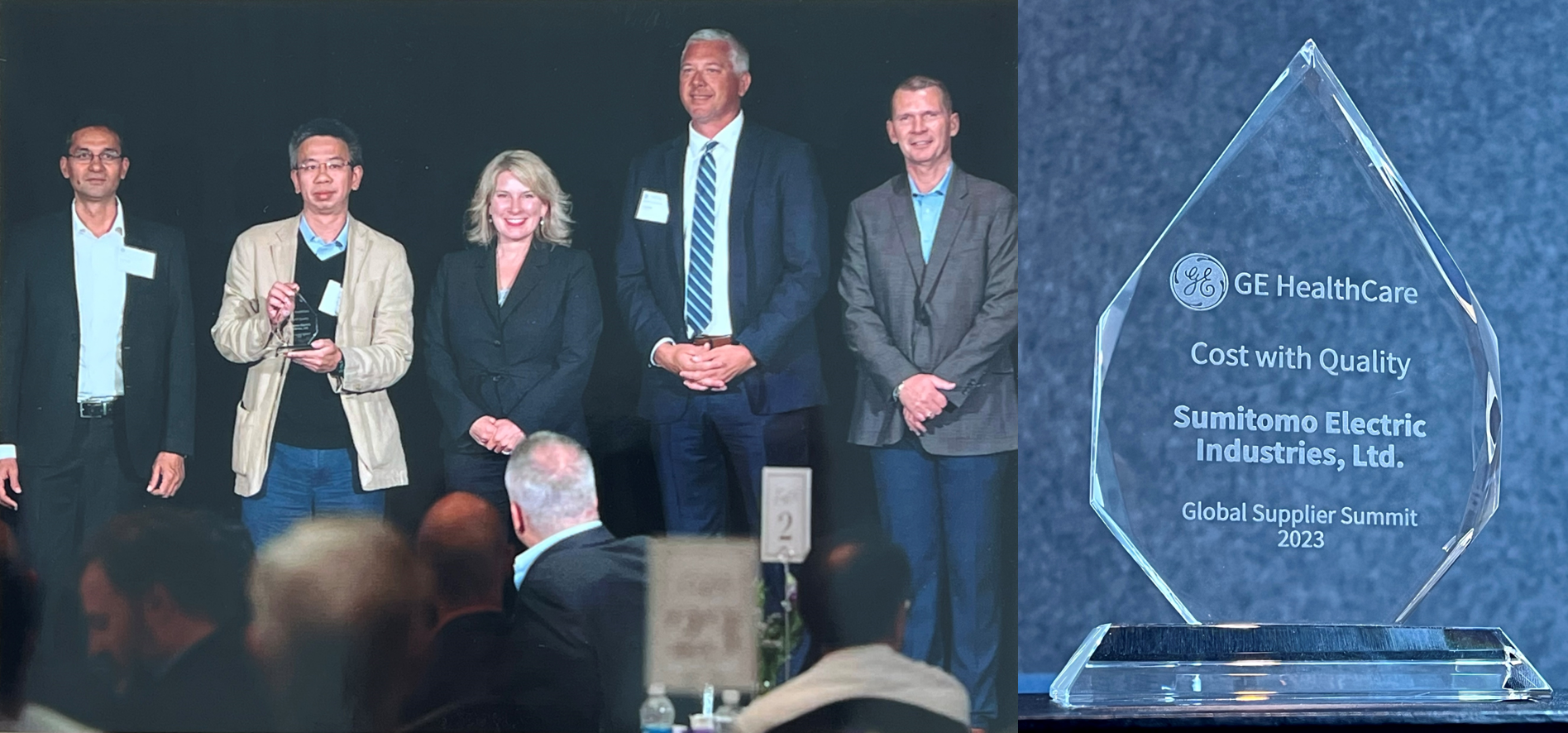 Sumitomo Electric manufactures and sells medical cables that possess excellent flexibility and bendability, as well as a reduced diameter, increased number of cores, and low capacitance for ultrasound diagnostic device and endoscope applications.
Sumitomo Electric will continue to contribute to the improvement of functionality and operability in medical devices by innovating and integrating its accumulated technical expertise and diverse product lineup.

* 2023 GE HealthCare Global Supplier Summit
The conference is GE HealthCare's largest supplier event, attended by over 300 invited suppliers.
This year's summit was held in the form of a physical gathering for the first time since 2020, and 13 companies, including Sumitomo Electric, were recognized from among GE HealthCare's 1,000-plus suppliers.