Top managements of Sumitomo Electric Group met with UK Prime Minister Sunak -New Power Cable factory in UK to support Net zero 2050-
Top managements of Sumitomo Electric Group met with UK Prime Minister Sunak -New Power Cable factory in UK to support Net zero 2050-
19 May 2023
Top managements of Sumitomo Electric Group met with UK Prime Minister Sunak -New Power Cable factory in UK to support Net zero 2050-
A meeting between UK Prime Minister Rishi Sunak and top managements of Sumitomo Electric Group was held in Tokyo, on 18th May 2023.

Sumitomo Electric announced on 27th April 2023 to establish a new Power Cable factory in the Scottish Highlands, UK to support UK Government's goal to achieve Net zero 2050. In connection with this announcement, Masayoshi Matsumoto, Chairman & CEO, and Osamu Inoue, President & COO met with Prime Minister during his visit to Tokyo.

Both parties reconfirmed that the factory will make a significant contribution to the establishment of local supply chain and technologies in the UK, related to renewable energies, and all stakeholders have expressed enthusiasm and commitment to make Sumitomo Electric's investment a resounding success. The new factory, once built, will also play an important role around improvement of UK's energy security by having a domestic production capability of key power transmission infrastructure.

"I am greatly honored to hear the strong expectations of Prime Minister Sunak and UK government regarding our power cable factory investment in the UK. Sumitomo is committed to make its utmost contribution to UK government's ambition to realize 50GW of offshore wind by 2030 and net zero 2050 with a state-of-the-art cable technology, " stated Osamu Inoue, President & COO of Sumitomo Electric.

The following is referred to as part of press release by the UK government.

"Sumitomo Electric Industries has announced its decision to build a strategically important high voltage cable manufacturing plant in the Scottish Highlands, bringing more than £200m in investment and creating 150 highly skilled green jobs. This investment will help the UK build resilient supply chains for critical infrastructure such as offshore wind projects and support UK developers to enhance their contribution to UK growth.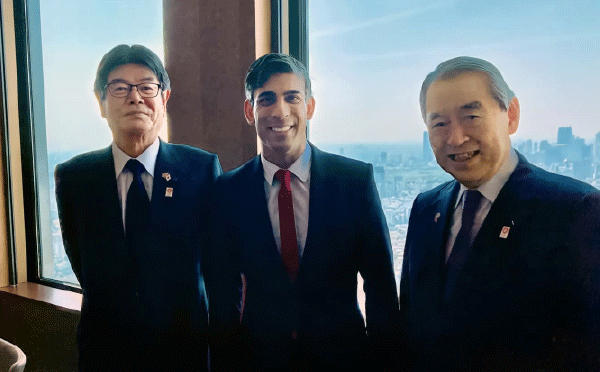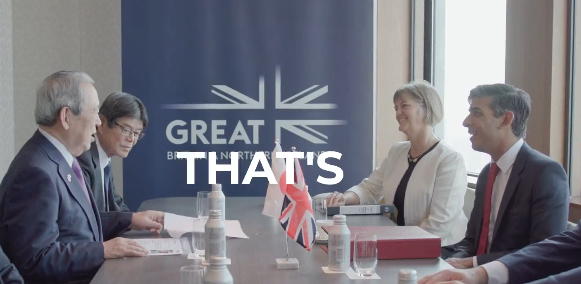 From Prime Minister Sunak official Twitter

■ Related items
- UK Government's Press release: 18 May 2023
https://www.gov.uk/government/news/japanese-firms-commit-record-177-billion-investment-into-the-uk

- Press release:
・ 27 April 2023
Sumitomo Electric Establishes Power Cable Factory in Scotland, U.K.
https://sumitomoelectric.com/press/2023/04/prs021