Sumitomo Electric Receives Diamond Awards 2022 (Sustainability Award) from Nokia Corporation
Sumitomo Electric Receives Diamond Awards 2022 (Sustainability Award) from Nokia Corporation
05 December 2022
Sumitomo Electric Receives Diamond Awards 2022 (Sustainability Award) from Nokia Corporation
Sumitomo Electric Industries, Ltd. has announced that it has received the Diamond Awards 2022 (Sustainability Award) from Nokia Corporation.

This award recognizes Nokia's suppliers that have demonstrated the most outstanding sustainability activities in FY2022.
The Sumitomo Electric Group has been certified by the international initiative "Science Based Targets initiative (SBTi)" as being in compliance with the initiative's standards in terms of the greenhouse gas (GHG) emission reduction targets it is aiming to achieve by 2030.* Nokia highly evaluated this as a corporate effort to show a clear path toward the achievement of carbon neutrality. Sumitomo Electric also contributed to the reduction of CO2 emissions in Nokia's supply chain through the active promotion of "energy saving" by improving its manufacturing facilities and "energy creation" by generating green energy at its manufacturing sites, which is also a reason why the Company was selected as the winner of this award.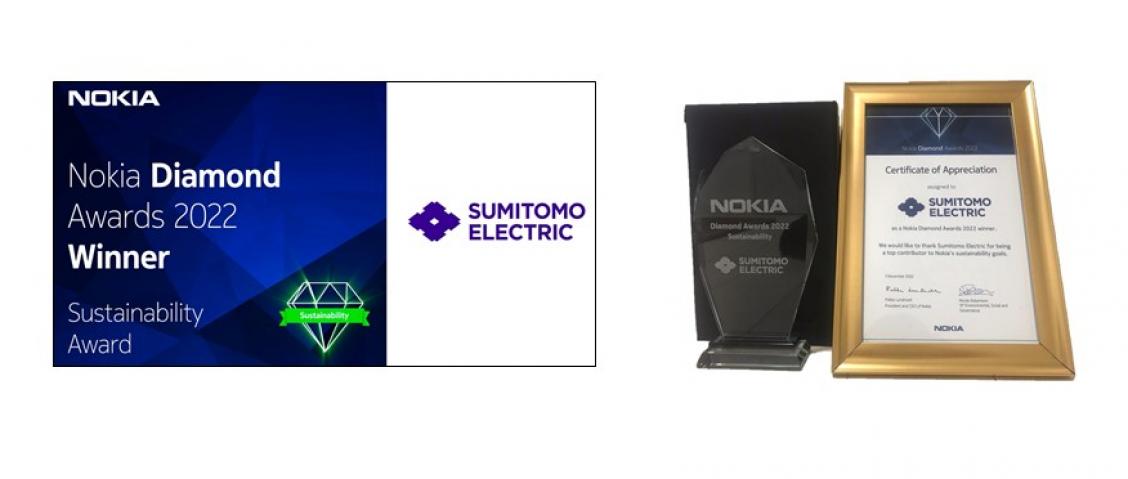 Manabu Yoshimura, General Manager of Device Sales Division, Semiconductor Innovation Business Unit, said, "We are pleased to have the honor of receiving the Diamond Awards 2022 (Sustainability Award) from Nokia Corporation. We will continue to aim to realize a green and environmentally friendly society where people can live safely and comfortably, as well as to provide high-quality products while striving for co-prosperity with our stakeholders."

*: Refer to the following press release dated June 14, 2021 from Sumitomo Electric:    
Sumitomo Electric Obtains SBTi Certification for Its GHG Emission Reduction Targets and Supports TCFD Recommendations
https://sumitomoelectric.com/publications/pr-news-articles/2021/06/sumitomo-electric-obtains-sbti-certification-its-ghg-emission