Industrial Materials
We aim to be a global supplier of high-performance, high-functionality products with some of the world's top materials
Copper wires are drawn with wire drawing dies. In our research and development work, we have taken the wiredrawing processes we have used for our copper wires and the powder alloys we use to develop our materials and applied them to other metals to create special steel wires. We have also applied the powder metallurgy technology we use to produce powder alloys and used it to develop sintered powder metal products. Our cutting and grinding tools are made using the material technology we have developed based on our technology for making fine copper wires. We began with cemented carbide alloys and expanded our range to include other ultra-hard materials such as diamond and cubic boron nitride. Our tools are now used in all kinds of manufacturing around the world. Additionally, special steel wires that reinforce concrete structures and tires and sintered powder metal parts used primarily in automobiles are essential for the growth of society and industries. In response to the growing demand for lightweight automotive materials and the growth in the medical and aviation industries, the Sumitomo Electric Group will offer tangible forms of innovative solutions for customer and social challenges, drawing on our world-class materials development capabilities and production technologies.
Initiatives to carry out our mid-term management plan
We will strengthen the selling power of our cemented carbide tools on the global stage, including construction machinery, industrial machinery and electronics in addition to our core automotive business, and expand our sales by introducing new products such as tools for cutting hard materials in the aviation and medical fields. For our sintered powder metal parts, we will make use of our global manufacturing sites to expand our sales and become more cost-competitive. We will also continue to focus on strengthening our production structure and expand our sales for PC steel wires and steel wire for springs.
VISION 2022 Mid-term Management Plan: Segment Strategy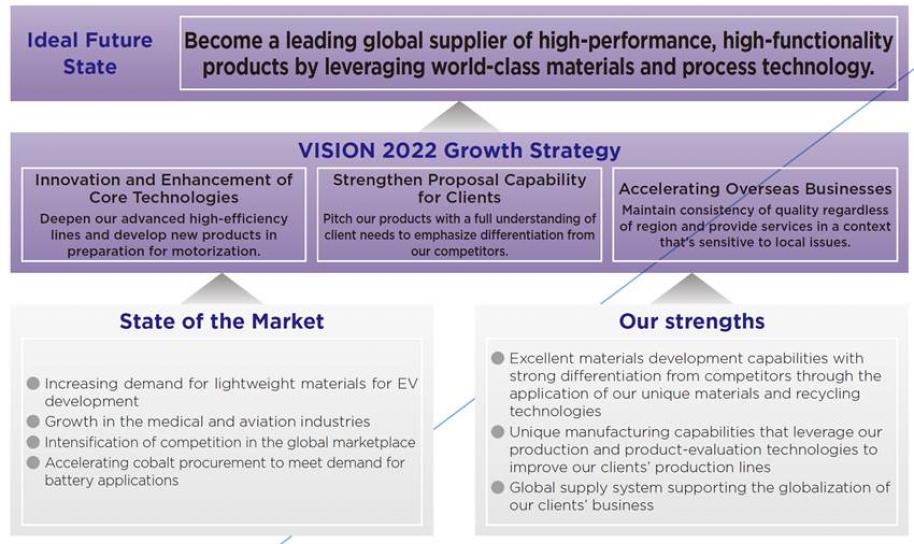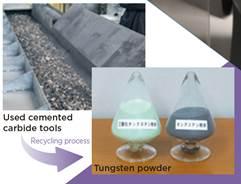 Examples of our initiatives to solve social issues
Establishment of a system to recycle tungsten
A.L.M.T. Corp. in the Sumitomo Electric Group deals in tungsten/molybdenum products and heat spreaders. Tungsten in particular is designated as one of the five priority rare metals to be recycled. As China supplies about 80% of Japan's tungsten, Chinese policies affect market prices. We therefore began research on the recycling of tungsten in 2007. We developed innovative technology for molten salt smelting and successfully turned this into a business in 2011. We have also reduced energy consumption in the process to produce tungsten powder by recycling. In 2014, Sumitomo Electric and a Japanese automobile manufacturer jointly received a Rare Metal Recycling Award at the Resource-Recycling Technologies and Systems Award 2013 Ceremony, which was organized by the Japan Environmental Management Association for Industry, in recognition of this initiative and the system we established to recycle scrap cemented carbide materials. We will continue to research tungsten recycling technologies so that we can contribute to the market by achieving a more stable supply.