Environment & Energy
Energy systems that keep us connected, now and in the future
The Sumitomo Electric Group began producing electric cables in 1908. We started with copper wires and have steadily progressed from low voltage to ultra-high voltage in our electric wire and cable business. A particularly foundational area of our copper wire business has been our high-voltage electric wire business, where we have built a business base and track record that leads Japan's industry through the completion of a series of major projects such as the production and laying of the world's first long-distance main line with 500 kV CV cables and the world's first submarine power line with a 500 kV DC OF cable. We have continued to build a stronger global presence, drawing on our strengths such as diverse high-value product families and associated services, project-planning expertise, overall capabilities involving affiliate companies in the heavy electrical machinery and engineering fields (Nissin Electric Co., Ltd. and Sumitomo Dentsu Co., Ltd.) and end-to-end system development from raw material to finished product. Currently, the technical expertise of our group is essential for the construction of new energy systems in line with trends such as international grid interconnection projects, primarily in Europe, infrastructure development in emerging countries, increasing use of renewable energy and widespread use of electric vehicles. We will continue to use this technology as a base as the building of energy infrastructure progresses.
Initiatives to carry out our mid-term management plan
In our mid-term management plan, we have pledged to accurately assess demand for new large-scale projects involving electric cables overseas and for renewable energy and upgrading of facilities in Japan, and to further reduce costs to improve profitability. We will also strengthen our global production performance for rectangular winding wires for the motors in EVs to handle the growing demand, and will draw on the strengths of the whole group, including Nissin Electric Co., Ltd. and Sumitomo Dentsu Co., Ltd. to get more orders in the global market.
VISION 2022 Mid-term Management Plan: Segment Strategy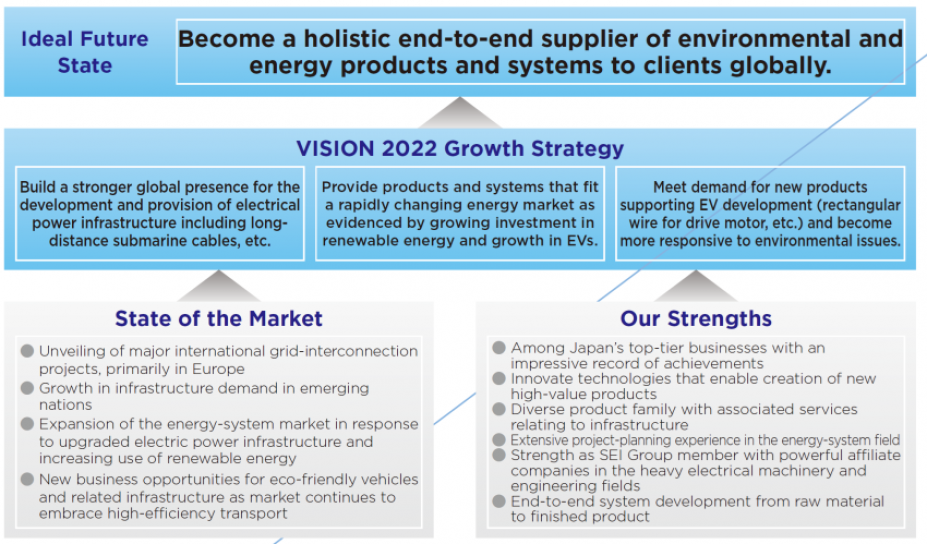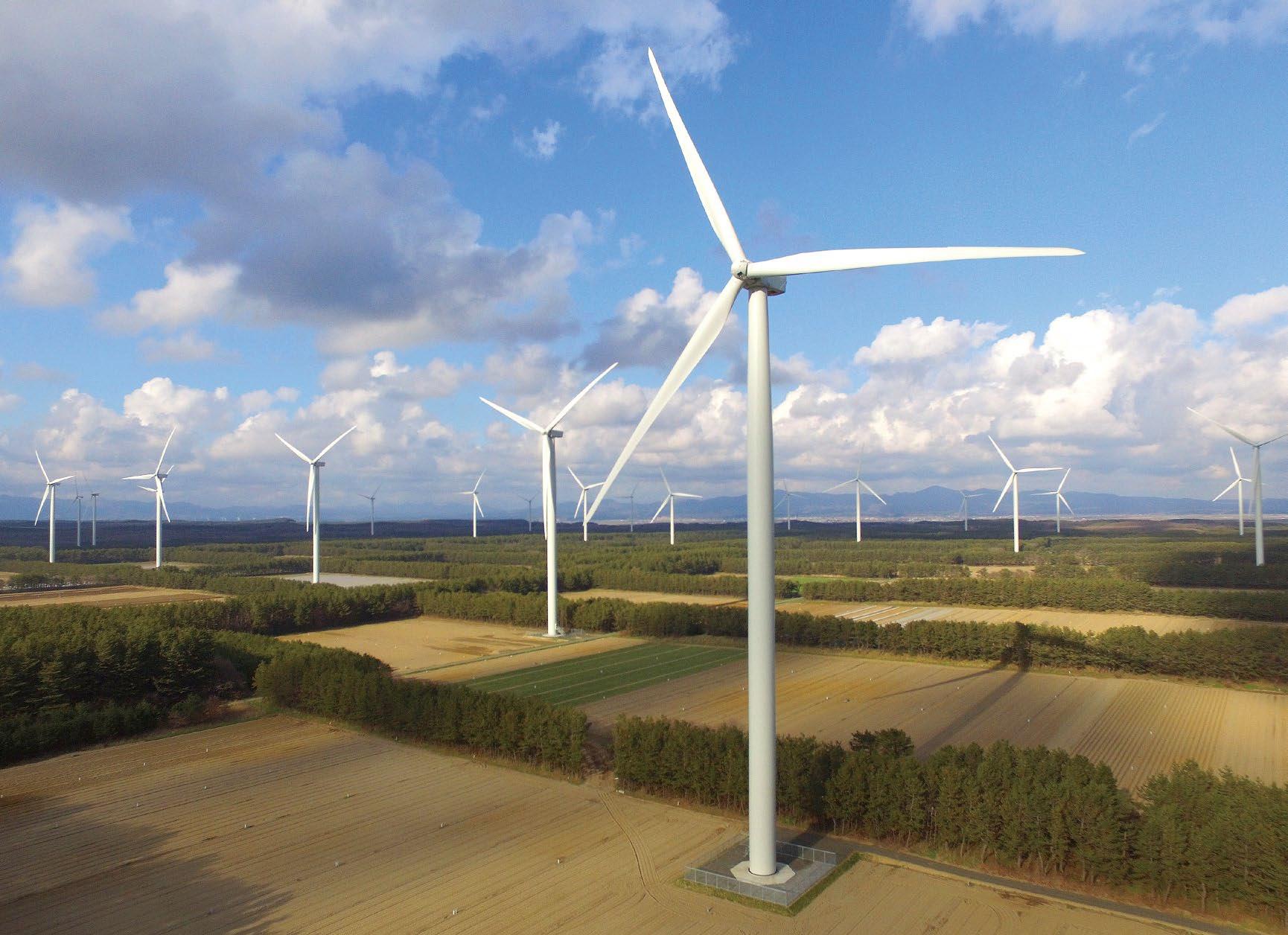 Examples of our initiatives to solve social issues
Wind Farm Tsugaru
Located in Tsugaru City, Aomori Prefecture, Wind Farm Tsugaru is Japan's largest wind farm, with 38 turbines generating 121,600 kW of energy on a large site on land. This is enough for around 90,000 average households, and is expected to reduce CO2 emissions by around 180,000 t each year. The Sumitomo Electric Group has worked together with Kajima Corporation, which was contracted to build the wind farm, since 2017, providing a total service including design, production and installation of electrical facilities such as underground transmission and distribution cables, receivers and transformers. 41 km of cables collecting power from the turbines, 34 km of cables to transmit the power, three receivers and transformers and a monitoring and control system were completed in only around two years. Our next endeavor is a total solution or renewable energy that will see us working on design support and construction preparations for many large-scale wind power projects, including offshore wind farms, for which there is a growing demand.