Sumitomo Electric's Value Creation Process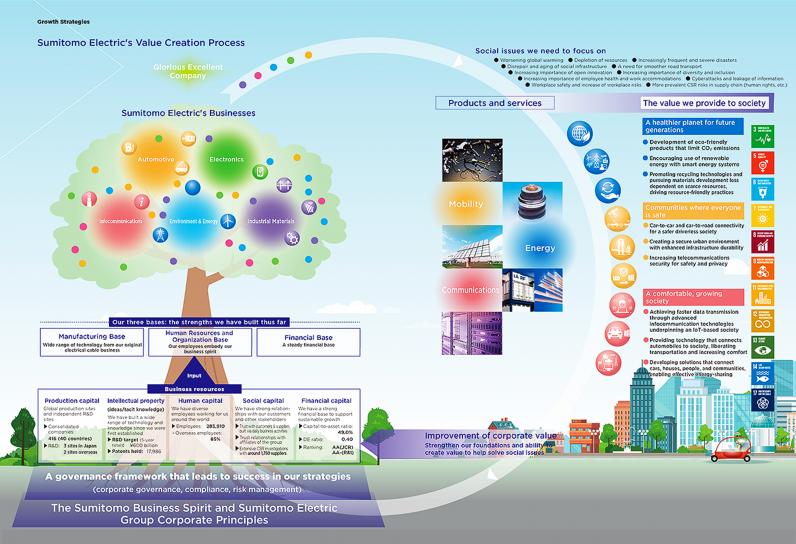 How the Sumitomo Electric Group Creates Value
Here is an explanation of each element of the diagram above that shows the Sumitomo Electric Group's value creation process.
The tree on the left represents the Sumitomo Electric Group itself, where the Sumitomo Spirit and our corporate principles are the roots from which our businesses grow, and the city represents future societies, where we will provide value through our business. The circle in the center represents a cycle where the value we create through our business activities is a resource that can be used to create new businesses, creating a cycle of value creation.
It is through this value creation process that we are working to provide value for people's lives by contributing to the building of a green society, a safe and secure society, and a comfortable and viable society. This will also lead to sustainable growth of the Sumitomo Electric Group.
A Glorious Excellent Company
A "Glorious Excellent Company" is the Sumitomo Electric Group's ideal future state. Achieving this requires a strong corporate philosophy and sustainable growth.
Sumitomo Electric's businesses and key areas
At present, our five main areas of business are Automotive, Infocommunications, Electronics, Environment & Energy and Industrial Materials. We combine these with new business ventures to expand our business in three key areas: mobility, energy and communications.
The fruits of the tree represent the five areas of business that have grown from the strong roots of our business bases and show how our business in mobility, energy and communications and other areas provides many forms of value to society. In each area of business, we are seeking to expand the value we provide to society through our variety of products and services that are essential to people's lives.
For details on specific products and services, see "Sumitomo Electric's connectivity and transmission technologies in society", "Sumitomo Electric's vision for 2030" , and "Overview of Business".
Our three bases:
the strengths we have built
thus far
The strengths the Sumitomo Electric Group has built thus far take the form of three bases:our manufacturing base, our human resources and organization base and our financial base.
Wide range of technology from our original electrical cable business
We have always worked with our customers to respond flexibly to changes in society's needs. This has seen us supply an enormous range of technologies and products, including an extensive range of materials. Through this work, we have built the following strengths, which we bring to collaborations both within and outside the company, achieving synergies on a whole new level.
Manufacturing
Taking SEQCDD* one step further

Creating strong factories through continuous improvement (kaizen)

Creating eco-friendly products
* Safety, Environment, Quality, Cost, Delivery, and Research & Development. The Sumitomo Electric Group's policy is to place these at the forefront in everything we do.
Research & Development
Core technologies from materials to processes

Variety of leading technology

Consistently challenging ourselves to create innovative technology
Human Resources and Organization Base
Our employees embody the Sumitomo Spirit
Entrenching the Sumitomo Spirit and Sumitomo Group Corporate Principles in our employees

Developing employees who can work on the global stage
One of the tenets of the Sumitomo Spirit is Respect for Human Resources, as without our employees our company would not exist. Finding and developing excellent employees has been the most crucial job of each generation of management, and the ethos of "people make the enterprise" lives on in everything Sumitomo does.
A steady financial base
Steady financial operations that do not rely on quick profits
We maintain a strong financial framework (ideally a 50% capital-to-asset ratio) and work to achieve sustainable growth proportionate to profitability and improve capital efficiency.
Awareness of social issues
We used a materiality analysis to identify social issues that are particularly crucial for us. We have mobilized the whole of the Sumitomo Electric Group to provide value through innovation and strengthen the foundations of our business. This will contribute to solving the social issues we have judged to be particularly important, and this in turn will enable sustainable growth of the Sumitomo Electric Group.
The value we provide to society
Thus far, the Sumitomo Electric Group has provided a wide range of products and services to supply energy, transmit information and get people and cargo from point A to point B. The nine forms of value we provide are a constant work in progress, and we will keep working with our customers to improve people's lives
Improvement of corporate value
Through these initiatives, the Sumitomo Electric Group will improve its value as a company by strengthening its foundations and ability to create value to help solve social issues. Our series of value creation processes will give us stronger business resources that we can then use to create even more value.
Strengthening of our business resources
Strengthening of our 3 bases (Manufacturing / Human Resources and Organization / Financial)
Growth of mobility, energy and communications businesses
Strengthening of governance framework
The principles and business resources behind our value creation
The Sumitomo Spirit and Sumitomo Electric Group Corporate Principles
The Sumitomo Spirit and Sumitomo Electric Group Corporate Principles center on the traditional principle of "Mutual Prosperity, Respect for the Public Good." Balancing our own benefits with the greater good and contributing to society have been at the heart of our business activities.
We allocate our business resources in a way that enables us to respond flexibly to changes in social needs, which facilitates sustainable growth and earns society's trust.
A governance framework that leads to success in our strategies
In order to seek sustainable corporate growth and to increase corporate value over the mid-to-long term, we believe that it is critical to ensure transparency and fairness of management activities through appropriate corporate governance, as well as to draw up and implement a growth strategy fully utilizing our management resources, with the key word being "innovation." At the heart of our work to achieve these aims are initiatives to further enhance our corporate governance.