Message from Chairman & CEO
The Sumitomo Electric Group's value has been rooted in the Sumitomo Spirit and the Sumitomo Electric Group Corporate Principles. We began as a producer of electric wires and cables and have used the wide range of technology we have built to help solve issues in society.We are working toward our ideal of being a "Glorious Excellent Company", working together with a wide range of stakeholders to improve our value as a company in the medium to long term and make society better in future.
Masayoshi Matsumoto
Sumitomo Electric Industries, Ltd.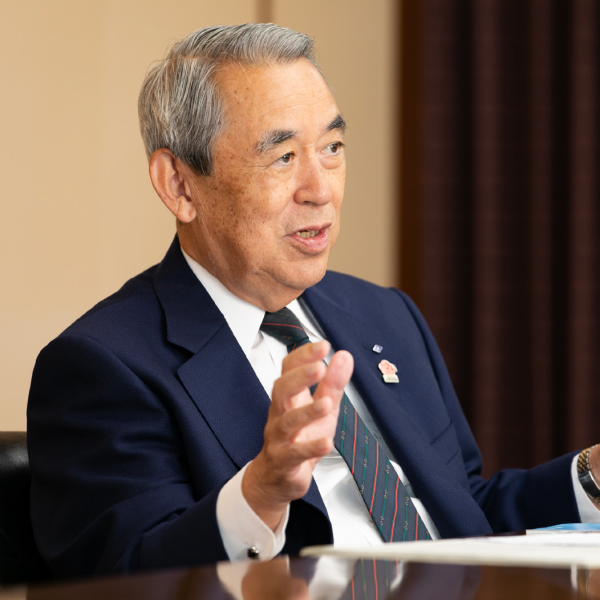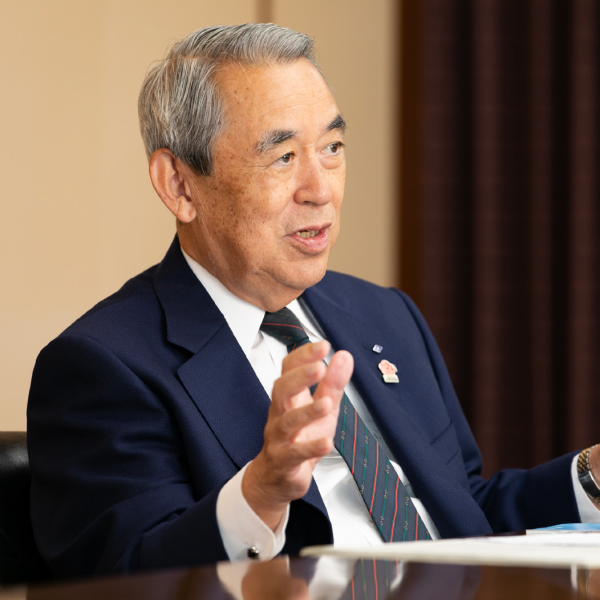 The trajectory of Sumitomo Electric's growth
In the past, the Sumitomo Electric Group had a comparatively closed, domestic business model. Our main trading partners were Japanese power and communications companies, for whom we developed and supplied high-quality, highly reliable electric and communication wires and cables. From the mid-1980s, regulations in Japan's power and communications markets were relaxed, and economic activities such as trade and investment became more globalized. Looking back on the last 20 years or so, we have transformed into a company that holds its own amid the free competition of the global market through strategies that encompass everything from our technology to our marketing.
As our businesses have diversified, advanced and expanded, we have adopted an organization model based on divisions and business units, enabling efficient group-wide management. This enables us to provide our expertise in technology, products and services that are needed in each area of our business while meeting the needs of our customers, trading partners and markets and using measures such as strengthening SEQCDD* and focusing on our "two pockets†" to ensure that each business unit is engaged in improving profitability. As a manufacturer, we structure our business so that our manufacturing, business and R&D arms function independently of each other, and reorganize our business based on the situation in each new era so that there is a healthy balance of power and everyone can share their views from equal footing.
Through these methods, the Sumitomo Electric Group has expanded its business in a variety of fields, both as Sumitomo Electric itself and as a wide range of subsidiaries and affiliates, reforming the structure of our business and strengthening our framework to respond strongly and flexibly to changes in our business environment while achieving sustainable growth.
* Safety, Environment, Quality, Cost, Delivery, and Research & Development. The Sumitomo Electric Group's policy is to place these at the forefront in everything we do.
† One "pocket", or source of profitability, is ongoing cost reductions and quality that earns our customers' trust and the other is setting prices that enable us to sufficiently recoup our costs and building the trust relationships that are needed to negotiate trade conditions with customers and get them on board. Sharpening both of these on a daily basis helps us to build a strong framework as a manufacturer.
The Sumitomo Spirit is a fundamental value in our business
Sumitomo Electric began as Sumitomo Copper Rolling Works in 1897, producing products such as copper wires. This means we have formally operated for around 120 years, while the original copper business that brought up Sumitomo began around 400 years ago. Under our corporate philosophies of the Sumitomo Spirit and the Sumitomo Electric Group Corporate Principles, our group has maintained an unwavering basic policy of contributing to society through fair business practices. Since we were first established, we have adhered firmly to business practices that are in harmony with society, and I think that stance has been the key to our advances and growth.
Our electric wires and cables, and the other products we have branched into, have been instrumental in building infrastructure that has made Japan what it is. We bring traditional Japanese business philosophies to our work, including "sanpo-yoshi" (satisfy all three sides, namely, the seller, the buyer and society) and the mindset that companies are public institutions. We believe that sharing these values with a wide range of stakeholders, including customers, trading partners, employees, local communities and shareholders, enables us to continuously increase our value as a company. Mr. Teigo Iba, the second president of Sumitomo, believed that we must not invest only in ourselves but in our country and society. This way of thinking is what shaped the philosophy of "mutual prosperity, and respect for the public good," which we still follow today. With global warming and disasters becoming more and more serious in recent years, it is becoming more crucial than ever for companies to actin harmony with the environment. The Sumitomo Spirit is our guiding principle as we work actively to find solutions to environmental issues, such as our storage cells, which promote the use of renewable energy. Thomas Carlyle, a British thinker, asserted that the laissez-faire doctrine rooted in economic relationships should be replaced by spiritual connections between people and that morality must be restored in relations between employers and workers.
The spirit of this captain of industry, who was appalled by the damage caused by the pursuit of profits above all else and was guided by love for his fellow humans, is something I think we need to embody in everything we do. Principles in the SDGs and ESG, such as a long-term view, sustainability, corporate contribution to solving issues and working for the public good, have seen a rapid rise globally in recent years. The Sumitomo Electric Group's corporate philosophy is well-aligned with the SDGs and ESG, and these principles are encapsulated by the Sumitomo Spirit that has been at the heart of our business since it first began around 400 years ago. We created a matrix to determine how the Sumitomo Electric Group activities can contribute to achieving the 17 SDGs, and initiatives to this end are now part of our day-to-day business. Working to achieve the SDGs is about working together as a group to serve others and contribute to society. This mindset is entrenched in our management and executives, and is reflected in how each of our companies is run, giving us a unified direction. It has been at the heart of the ongoing growth we have achieved over the years, and will continue to be part of Sumitomo Electric.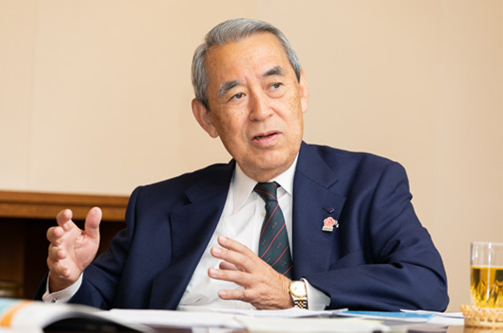 The strengths that have driven Sumitomo Electric's growth and advances
A wide range of technology from our original electrical cable business
In its early days, Sumitomo was a copper company, and we have drawn on the electric wire and cable technology we have developed to grow our business as we work together with our customers to respond flexibly to changes in what society needs. Our electric wire and cable business has evolved from our original copper wire enterprise to power and communications cables and expanded into various fields to include automotive wiring harnesses, highly functional electric wires for information devices and printed circuit boards as society has developed further. We have actively sought to diversify our business, bringing the world revolutionary new products and technologies that evolved from our electric wire processing technology, including cemented carbide alloy, sintered powder metal products, optical fibers and compound semiconductors. Our products are wide-ranging with their own unique characteristics, but there is a commonality to every kind of technology we produce. Choose any of our products and follow its technology tree and you will be able to trace it back to the technology from our electric wire and cable business. I think that common ground is a major strength of ours.
Developing employees who can help to solve social problems
In 2005, we opened "SEI University", a company university for our employees. This training system carries on our tradition of solidarity and embodies the Sumitomo Spirit. It is a place for us to share our business strategies and visions, teach employees the fundamental principles for operating in a global market and foster kinship between our employees. We are in an age where we must take the initiative to solve global issues with no easy answers, and, now more than ever, there is a need for a high level of liberal arts education. It is this that will lead us in the right direction and help us to find solutions to problems that are so far outside of what is normal and typical. So how can we equip ourselves with that education? We must train ourselves to ask the deeper questions referring to classics, while keeping in mind that the answers will not reveal themselves quickly—this is something we must continue with patience and persistence. Our employees are now more aware of Sumitomo's roots and the Sumitomo Spirit than they were before, showing that our liberal arts approach is gradually having an effect. The effect of our strong, unique training system is undeniable.
What we want our employees to become.
Terumasa Nakanishi, a Professor Emeritus of Kyoto University, wrote a book on the fall of the British Empire. One thing he said that stuck with me was that the British gentlemen behind the success of the British Empire were "mavericks with solid backbone". They would have needed to be in order to have built an empire like that. The rise and fall of a nation is dependent on its people. So it is with companies. That solid backbone calls to mind a wisdom from Mencius, who said that if you can say honestly that what you believe is correct, you will be able to move forward even if 10 million oppose you. And maverick is someone who would try to rise to the top by exploring possibilities from every angle when a normal way does not work. I tell our young employees in particular that they must always strive to be a "maverick with solid backbone".
These are the kind of people to whom I want to pass on Sumitomo Electric's legacy.
The famous poem Youth by Samuel Ullman says "Nobody grows old merely by a number of years. We grow old by deserting our ideals." It is important to have ideals and passion no matter what your age. From dreams come ideals. From ideals come plans. Once you have a plan, you need to act. There is no success without action. I tell our employees that they must have a dream, but merely having one is not enough: they must work to make it come true. When you are running a business, you can use Sumitomo Electric's resources to achieve your dreams and ideals. I want our employees to work toward their dreams and ideals, pushing themselves and setting their sights high.
Working toward our ideal future state: a Glorious Excellent Company
The Sumitomo Electric Group aims to be a "Glorious Excellent Company." "Glorious" represents our unchanging qualitative vision for the group. We strive to earn the trust of our stakeholders and be a company the world needs. We pour our hearts and souls into everything we do, guided by the Sumitomo Spirit and the Sumitomo Electric Group Corporate Principles. "Excellent" represents quantitative measures of the corporate group we want to be: a group that generates excellent profits, accomplishes its mid-term management plan and meets its targets for metrics such as sales and operating income. It is with this ideal in mind that we are responding flexibly to major changes in the world around us, building a balanced business portfolio and working to achieve steady profits and growth. In our current midterm management plan, we are envisioning what the world wants for society and the environment in 2030 and working to improve people's lives by providing value in the form of a low environmental footprint, safety, comfort and social growth. I appreciate the ongoing support of all of our stakeholders.